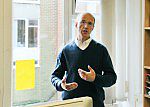 Prof
Ben Rogaly
Post:
Head of Department (Geography)
Other posts:
Professor of Human Geography (International Development, Geography, Sussex Centre for Migration Research)
Location:
Arts C C204
Email:
B.Rogaly@sussex.ac.uk

Telephone numbers
Internal:
3710 or 7238
UK:
01273 873710 or 01273 877238
International:
+44 1273 873710 or +44 1273 877238

Research expertise:
download vCarddownload vCard to your mobile
Biography
Ben is Professor of Human Geography and a member of the Sussex Centre for Migration Research. He comes to Geography from an interdisciplinary social science background. Before joining Sussex in 2003, Ben was based at the School of Development Studies at the University of East Anglia, where he had been a member of faculty since 1996. He has also worked as a Research Officer at Oxford and Reading Universities, and as a policy advisor at Oxfam (UK). Ben's doctoral research at Oxford University (completed in 1994) focused on employment arrangements for agricultural workers in West Bengal, India. He has subsequently led major research projects in in the UK, India and Mexico.
Role
Head of the Department of Geography
Ben's research divides into two main themes as set out below. Both themes are reflected in his Arts and Humanities Research Council (AHRC) Fellowship entitled Places for All? A Multi-Media Investigation of Citizenship, Work and Belonging in a Fast-Changing Provincial City. The Fellowship, which runs until November 2013, forms part of the Royal Society of Arts' Citizen Power in Peterborough Programme. In collaboration with arts practitioner colleagues, Ben is exploring the commonality of multiple place attachments within and across national borders, using oral history, film, photography, and theatre. The Fellowship also involves an investigation of changing employment patterns in Peterborough in the context of the building of new residential areas and relatively high levels of inward migration.
1 Social and historical geographies of identity, 'race', place, class, faith and migration in England
Ben's recent work with historian Becky Taylor has used archival, ethnographic and oral history evidence to disrupt the popular idea that white working class communities are fixed in place and threatened by the arrival of immigrants and people of colour. One of the key arguments of Ben and Becky's recent book Moving Histories of Class and Community: Identity, Place and Belonging in Contemporary England is that white working-class emigration, and the continued stretching of 'indigenous' lifeworlds both within and across national boundaries, have influenced contemporary debates on 'race' and immigration. A second key argument stresses the importance of relationality and ambivalence in subjective experiences of class and place, not least in schools and in universities. The book was drawn on by Lynsey Hanley in a recent Guardian article. A paperback edition with a Foreword by Lynsey was published in April 2011.
Ben was co-investigator in an exploratory follow-on project, funded by the research councils' Connected Communities programme, called Sacred Communities: Connected Practices Across Place and Time. This research - a collaboration with anthropologist Abby Day - included a review of transcripts from a total of 143 interviews, conducted as part of Ben and Becky's previous work in Norwich and Abby's in North Yorkshire. The research aimed to produce new insights on the everyday, embodied practices of faith and community, focusing on the ways such practices stretch (and change) across space and time.
2 Political economic geographies of temporary migrant work in India and the UK
Ben's research on work-place regimes for temporary migrant workers has focused mainly on the agricultural sector. In the UK he has carried out in-depth interviews with employers, labour contractors, workers and food retailers, and revealed how the concentration of market power at the retailer end of the food supply chain has led to the intensification of work for people employed in food production.
Ben's multi-scale research insists on simultaneous attention both to the political economic causes of inequality in capitalist work-places, and to workers' subjectivities, including various forms of resistance. In his recent writing he has attempted to extend writing on labour geographies, which has previously focused largely on the agency of workers who are organised in unions, to consider the specific spatiotemporalities of workers hired for just a few weeks or months at a time and who often rely on employers for both accommodation and transport. Ben has also continued to collaborate in research on temporary migrant workers in India with colleagues Janet Seeley, Abdur Rafique and Deeptima Massey. A book of research participants' life histories Known Face, Unkown Life: Voices of Temporary Migrants in West Bengal, edited by Abdur Rafique, has been published in Bengali. An English translation is available on the website of the Development Research Centre on Migration, Globalisation and Poverty, which funded the work.

Ben is Head of the Department of Geography. In Spring Term 2014 he is convening and teaching an MA module: Migration, Inequality and Social Change.
At Sussex he is currently co-supervising five doctoral students:
Debbie Humphry, Moving On? A Class Analysis of Social Mobility in an Inner London Locality, ESRC-funded.
Alexa Neale, Capital Domicide: Home and Murder in the Mid-Twentieth Century Metropolis, AHRC-funded.
Amy Clarke, When 'they' become 'us': exploring understandings of integration and belonging among white middle-class British adults, ESRC-funded.
Etienne Joseph, Africa in London: Towards a Living Archive for the Africa Centre, Collaborative funding from Africa Centre and University of Sussex.
Louise Drammeh, The well-being of undocumented migrants: exploring the relationship between migration policies and the release of human potential.
Ben is also external advisory supervisor for Annika Wetlesen's PhD thesis on workers' agency in the Tamil Nadu construction industry (University of Oslo).
He has supervised seven doctoral students through to completion:
Sally Daly, Pick, Pack, Sell: Producing Horticulture in 21st Century Ireland, 2012 (as external supervisor for the Dublin Institute of Technology).
Donna Simpson, Salads, Sweat and Status: Migrant Workers in UK Horticulture, 2011 (ESRC CASE Studentship in collaboration with the Joint Council for the Welfare of Immigrants and Migrants' Rights Network). Thesis available at http://migrantworkersinhorticulture.wordpress.com
Deeptima Massey, Experiencing Staying Behind: A Study of Women's Lives During the Temporary Absence of Migrant Men in Rural West Bengal, India, 2008 (Development Research Centre on Migration, Globalisation and Poverty bursary).
Daniel Coppard, Surface Tension: Water and Agrarian Change in a Rainfed Village, West Bengal, India, 2005 (ESRC studentship).
Primitivo Viray, A Study of the Impact of the Tibod Microcredit Organisation in Gingoog, Philippines, 2003.
Nitya Rao, Standing One's Ground: Gender, Land and Livelihoods in the Santal Parganas, Jharkhand, India, 2002 (University of East Anglia studentship).
Valerie Roberts, Building Social Capital Through Microcredit: The Impact of a Rural Credit Programme on Borrowers, 2002.
Wednesday 09:00-10:00
Thursday 16:00-17:00