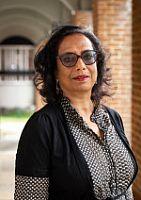 Dr
Vinita Damodaran
Biography
Professor Damodaran is a historian of modern India, interested in sustainable development dialogues in the global South. Her work ranges from the social and political history of Bihar to the environmental history of South Asia, including using historical records to understand climate change in the Indian Ocean World. Her publications include; Broken Promises, Indian Nationalism and the Congress Party in Bihar (1992), Nature and the Orient, Essays on the Environmental History of South and South-East Asia(1998),Post Colonial India, History Politics and Culture (2000), British empire and the natural world: environmental encounters in South Asia, (2010), East India Company and the Natural world (2014) and more recently Climate change and the Humanities (2017). She is also the author of several articles in established journals. She is particularly interested in questions of environmental change, identity and resistance in Eastern India. An experienced researcher and teacher she has an M.Phil from JNU and a PhD from Cambridge. Currently, she is the director of the Centre for World Environmental History at Sussex. The centre is host to several research projects and a number of research associates. Dr Damodaran has had several research grants for her work from the ESRC, the Leverhulme Trust, the British Academy and the AHRC. She is currently leading an AHRC network project on the botanical and meteorological history of the Indian Ocean and is working on two projects one with the McGill university and the seond with Noragric. The centre collaborates actively with Kew Gardens, the British Library, the U.K. Met office and several international institutions both in India and elsewhere such as JNU, the Botanical Survey of India, Kolkata, the Indian Museum, Kolkata, the Forest Research Institute, Dehradun, and Mcgill University, Canada and IDS, Sussex. She is engaged in building up the profile of South Asian studies and environmental history at the University of Sussex and internationally. She currently supervises 6 Phd students and is mentoring several post-doctoral scholars. She is also co-editor of the Palgrave series in World Environmental History. Her talks include,
Jan 2, 2020 Key note lecture Indo-US bilateral symposium on climate risk and reconstruction, Mohali,India
October 3, Key note address, Climate signals, Famine and livlihoods from 17th to 19th century India, Institute of Contemporary History, Lisbon
June 2019, Forests, heritage and history, Manchester
May, 2019, Art, Activism and Environmental history, Sussex
March, 2019, Adivasis and the Anthropocene, History seminar, Durham
March 2019, Environmental history for the Anthropocene, Brighton
January, 2019 A scientific Life, Janaki Ammal and the scientific patriarchy in Britain and India, Centre for South Asian Studies, Cambridge
November, 2018 Famine, Forests and Communties,World History seminar, Cambridge
October 2018 Lost species day artists workshop,invited speaker, Phoenix Gallery, Brighton
October 2018 Project Partnership meeting, Human nature interactions in the Indian Ocean World, Ghent
October 2018 Inaugural public lecture on 'Historical climate vulnerability' for the Centre for Environmental Humanities, Bristol.
Sept 2018, Keynote speaker, Intersections Inaugural environmental History workshop, Institute for Historical Reserach, London
Sept 2018 British society for the History of Science, outreach and education provocations, 'Sceince and activism, Panel member
July,2018 AHRC Natural disasters network workshop, Bristol
March, 2018 AHRC Natural disasters network workshop, Norwich
December, 2017, Decolonising Indian plan collections, at Bildung conference on remediations of cultural and natural heritage, Copenhagen
October 2017, invited speaker, Environmental sciences and the settler colonies, Nippising University, Canada
October 2017, Participant, Risks, Hazards, Disasters and Culture workshop, Hull
October 2017, Empire forestry, famines and communities, Imperial and Commonwealth seminar, Oxford
May 2017, speaker Chevening journalists symposium, Climate change and the new world order, London
May 2017, speaker Chevening journalists symposium, Climate change and the new world order, London
March, 2017, Forests, sacred groves and the environmental heritage of India, Kolkata
January, 2017, Climate change and South Asian coastal cities, Qatar
January, 2017, Climate change and South Asian coastal cities, Qatar
October, 2016 Presenter, Cambridge history of the Indian Ocean, Harvard.
November, 2016, commentator, workshop on Sustainable Development Goals, Geneva
July, 2016 Panel convenor Adivasi histories, EASAS conference, Warsaw
June, 2016 Cambridge History of Violence, Meeting in Notredame University Rome
January, 2016, Uncertainity, climate change and social transformation workshop, Kolkata
November, 2015, Paris, Climates of History, conference in honour of Emmanuel Ladurie
July, 2015, paper at meeting on 'Official responses to mass harm and questions of Justice' International Institute of the sociology of Law, Onati, Spain
July, 2015, Oxford, A comparative history of famines in India and Britain in the early modern period
March, 2015, 'Ideas of Natural heritage and legacies of the Raj' at conference on Assembling Value, the changing role of experts and expertise in art and heritage, MAACH,Maastricht University
http://www.maastrichtuniversity.nl/web/Institutes/MaastrichtCentreForArtsAndCultureConservationAndHeritageMACCH/Events/KickoffConference.htm
Feb 2015, Gujerat Institute of Desert Ecology, project meeting on 'Climate change, uncertainities from above and below'
Feb 2015, Univeristy of Beliefeld, 'Famine in early modern empires' Heidelberg Centre for the Environment.
January, 2015, Somerville college, Oxford, seminar for senior Indian civil servants on sustainable development dialogues.
April, 2014, 'Dynamics of urbanisation in India' seminar participant LSE
April 2014, Speaker at World Meterological Organisation meeting, WMO, Maputo 'Climate heritage of the Indian Ocean'.
July 2014, Panelist, World Congress of Environmental History, Guimaraes, Portugal
July 2014, Panel convenor and participant, European Association of South Asian Studies meeting, Zurich
November, 2014 Public Lecture, Indian Museum, Kolkata on E.K.Janakiammal
May 2013, Utopian Archives, AHRC meeting UEA, Norwich
August, 2013 AHRC network Botanical and meterological history of the Indian Ocean, Delhi
November, 2013 RCUK invitee, Delhi meeting, Food, water, energy nexus
December, 2013 Inaugural lecture on 'Natural heritage and colonial legacies in nineteenth century India', Indira Gandhi Institute of Sustainable development, Somerville College Oxford,
December, 2013 'A woman in science' SOAS, London South Asia seminar
June 2012, Past and Present conference on Heritage in the modern world, Brighton
June 2012,organiser, University of Sussex, workshop on Electrifying Europe, the future generation of electricity and the supergrid
Dec, 2012 AHRC network on the botanical and meterological history of the Indian Ocean, Sussex
March 2011, AHRC invitee for conference on South Asian Historical records and climate change, Bangalore
May, 2011, IHR, seminar on Comparative histories of Asia, London
May 2011, University of Sussex, Conference Organiser, Botany, climate and empire
June, 2011, Historic weather workshop, U.K. Met office, Exeter
July 2011, University of Exeter, Plenary speaker, Environment and Identity
Sep, 2011, KNMI, Netherlands, 4th ACRE Workshop
December, 2011, Natural History Museum, London, 'Nathanial Wallich and Indian natural History'
March 2010, 'Place and agency, landscape narratives of Singhbhum' University of Sussex
June 2010, organisor of CWEH summer workshop 'Themes in Global Environmental History', University of Sussex
July 2010, Panel convenor, Environment and empire, Anglo American conference, London
Directorships and Memberships and positions
Member,advisory board, Living Deltas, GCRF hub,New Castle University, 2019
Member AHRC ODA peer review college, 2018 ongoing
GCRF ODA lead Sussex university, 2018 ongoing
Affiliated scholar Centre for South Asian Studies, Cambridge, 2018 ongoing
Council Member, British Academy Society for South Asian Studies, 2003-2006
Member, Association of South Asian environmental historians, 2006-
University of Sussex, Senate member, 2007- 2009, 2012-
Member editorial board International journal of Development and Social research
Member, editorial board, Oecology international review of environmental history
Member programme committee Anglo-American conference on environments 2010
External Examiner, SOAS, University of London, 2009-2013
Co-Editor, Book series in World Environmental History, Palgrave
Director, Centre for World Environmental History, University of Sussex
Project consultant
Kew Gardens and the Natural History Museum on Indian garden drawings collections, 2009
British Library, Endangered Archives and World Collections project, 2009
Natural History Museum, Wallich and Indian Natural history, 2011
Coordinator for Sussex MOU with BL and MET office on historical records and climate change, 2012
Project Consultant, Commonwealth Forest history, Forest Research Institute, Dehradhun, India
Project consultant, National Museum, Kolkata
Academic consultant on Natural History Museum Video, Art and Empire, Images of Nature Gallery, 2013-2014
http://www.nhm.ac.uk/nature-online/art-nature-imaging/collections/india-collection/history-and-context/index.html
Leader, climate team, Indian Ocean World Centre, Mcgill University
http://indianoceanworldcentre.com/team_7
AHRC Project head on Indian Natural History heritage exhibitions to be held in Kolkata and Mysore in October, 2016
Project consultant, Botanical heritage of India exhibition, India International Centre, Delhi, October 2017
Community and Business
She is part of a Sussex network liasing with Indian corporations over their CSR policy in Eastern India. She also runs with Zuky Serper an Academia and Activism network which is engaged in bringing the university and local communities together and creating new forms of knowledge for our sustainable future.
She is engaged in building links with libraries, musems and archives in India and the U.K. to enable digital repatriation of collections that will enable creating new archives of knowledge in regions such as South Asia. These include the Natural History Museum, Kew Garden, the British library and the Met office in the U.K. and the National Museum of Natural History, the Botanical Survey of India, The Forest Research Institute Dehradhun and the National Museum, Calcutta in India.
June 2011, Recent public appearances include being part of public forum, in Brunei Gallery, London on mining, adivasis and India's civil war with the with the Booker prize winning writer, Arundhati Roy.
http://www.soas.ac.uk/gallery/disappearingworld/05jun2011-burning-ground-mining-adivasis-and-indias-civil-war.html
November 2011, Public seminar at the Gandhi Foundation in London to coincide with the award of the Gandhi peace prize,
March 2011, BBC 3 Radio programme Night Waves on 'Ravages of Nature' .
http://www.bbc.co.uk/programmes/b00zm4xj
August 2013, Appearance on film on 'Indian orinthology a passage through time' produced by the Salim Ali institute of Orinthology and natural history, Bangalore
http://www.cultureunplugged.com/storyteller/PA__Azeez
Appearance on Loksabha TV, Delhi in on decolonisation of India.
May 2013-14 Appearance in video at Natural History Museum, Art of empire in exhibition on Indian collections at Images of Nature gallery.
http://www.nhm.ac.uk/nature-online/art-nature-imaging/collections/indian-collection/history-and-context/index.html
Appearance as part of Sussex team collaborating with Kew Garden on Hooker correspondence. www.kew.org/collections/hooker/.
April 2014, Speaker at World Meterological Organisation international workshop on the recovery and digitisation of climate heritage in the Indian Ocean rim countries and Islands at Maputo, Mozambique, April, 2014 and part of WMO team on implementation of Data rescue in Indian Ocean World countries.
http://www.gfcs-climate.org/node/1
November, 2014, Media coverage of visit to Kolkata, India on 4th November, 2014 to deliver a public lecture on E.K. Janakiammal at the Indian Museum

http://www.buzzintown.com/kolkata/events/lecture-vinita-damodaran/id--947172.html
http://zeenews.india.com/news/sci-tech/indian-flora-records-in-london-to-be-digitally-repatriated_1494341.html
May, 2015, Guardian Letter on the Migrant situation in the Indian Ocean World, May 20th 2015
http://www.theguardian.com/world/2015/may/20/scandalous-treatment-of-rohingya-and-african-boat-migrants
October, 2015, Contributor BBC Radio 4 Natural History Heroes, Allan Octavian Hume, 1st October, 2015
http://www.bbc.co.uk/programmes/b06d9blc
Media coverage for two exhibitions taken to India in October 2016 on Environmental heritage
http://www.bfirst.in/news/mysuru-first/14130/researchers-called-explore-india%E2%80%99s-environmental-heritage
October, 2016 Media Coverage for her exhibition and work on Janaki Ammal.
https://thewire.in/74911/janaki-ammal-magnolia-kobus/
http://www.thehindu.com/sci-tech/science/Kolkata-celebrates-botany-legend-Janaki-Ammal/article16073012.ece
March, 2017, Keynote Address in Patna at a public conference inauguarted by the president of India on Bihar and Jharkhand; shared history and shared vision
https://www.youtube.com/watch?v=7uVKx2gSLt8
Media coverage for plenary lecture in Patna on Adivasis in the Anthropocene, March 30th, 2017
http://timesofindia.indiatimes.com/city/patna/scholar-rues-leadership-crisis-in-subaltern-polity/articleshow/57831930.
May, 2017 Quoted in the Guardian, 29th May about Oxford history exam and the curriculum https://www.theguardian.com/education/2017/may/28/oxford-students-to-get-exam-on-non-white-non-european-history
June, 2017, On BBC Asian Network Thursday night debate 2nd June,2017, http://www.bbc.co.uk/programmes/b08r3rlr
March, 2018 Media coverage for work on Janaki Ammal March, 2018, http://www.thehindu.com/society/the-first-indian-woman-botanist-e-k-janaki-ammal-ought-to-be-more-widely-known-for-her-huge-contributions-to-science-but-she-remains-unknown-within-the-country-and-outside-academic-circles-and-even-our-textbooks-have-failed-to-teach/article23001501.ece
October, 2018 Guardian letter on the protests against 'menstruating' women entering Sabarimala temple in Kerala,Oct 31st, 2018

https://www.theguardian.com/world/2018/oct/31/dont-let-indias-upper-caste-men-dictate-tradition
April 2019, Participant BBC radio 4, 'Beyond belief' https://www.bbc.co.uk/programmes/m0004f05
May 2019, RHS Wisley, Blog about my research on Janak Ammal, https://natsca.blog/2019/04/26/my-work-is-what-will-survive/
July, 2019, Interview with me on my work on Ammal with the Smithsonian Magazine