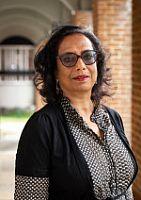 Dr
Vinita Damodaran
Biography
Dr Damodaran is a historian of modern India. Her work ranges from the social and political history of Bihar to the environmental history of South Asia. Her publications include; Broken Promises, Indian Nationalism and the Congress Party in Bihar (1992), Nature and the Orient, Essays on the Environmental History of South and South-East Asia(1998) and Post Colonial India, History Politics and Culture (2000), British empire and the natural world: environmental encounters in South Asia, (2010) She is also the author of several articles in established journals. She is particularly interested in questions of identity and resistance and is completing a manuscript on landscape and indigeneity in Chotanagpur. An experienced researcher and teacher she is the director of the Centre for World Environmental History at Sussex. The centre is host to several research projects and a number of research associates. Dr Damodaran has had several research grants for her work from the ESRC, the Leverhulme Trust, the British Academy and the AHRC. She is currently leading an AHRC network project on the botanical and meterological history of the Indian Ocean 2012-2014. The centre collaborates actively with Kew, the British Library, the U.K. Met office and several institutions in India such as JNU, Delhi the Botanical Survey of India, Kolkata. She is engaged in building up the profile of South Asian studies and environmental history at the University of Sussex and internationally. She currently supervises 4 Phd students and is mentoring several post-doctoral scholars. Her recent talks include,
June, 2008, Savage attack, reinterpreting adivasi movements in South Asia, University of London
August, 2008, Nature,knowledge and power in South Asia, University of Uppsala (conference consultant)
August 2005-2010 Sussex co-coordinator of the EU funded Cliohresnet project on research agendas for the new Europe and contributer to thier bi-annual meetings on Europe and the wider world.
March 2009, Asian environments shaping the world, National University of Singapore
April, 2009 Panel organiser, Environmental histories of South Asia, BASAS meeting, Edinburgh
October, 2009, Public lecture on 'Gandhi and his practice of politics' Bengali Society of Oxford
March 2010, 'Place and agency, landscape narratives of Singhbhum' University of Sussex
June 2010, organisor of CWEH summer workshop 'Themes in Global Environmental History', University of Sussex
July 2010, Panel convenor, Environment and empire, Anglo American conference, London
March 2011, AHRC invitee for conference on South Asian Historical records and climate change, Bangalore
May, 2011, IHR, seminar on Comparative histories of Asia, London
May 2011, University of Sussex, Conference Organiser, Botany, climate and empire
June, 2011, Historic weather workshop, U.K. Met office, Exeter
July 2011, University of Exeter, Plenary speaker, Environment and Identity
Sep, 2011, KNMI, Netherlands, 4th ACRE Workshop
December, 2011, Natural History Museum, London, 'Nathanial Wallich and Indian natural History'
June 2012, Past and Present conference on Heritage in the modern world, Brighton
June 2012,organiser, University of Sussex, workshop on Electrifying Europe, the future generation of electricity and the supergrid
Dec, 2012 AHRC network on the botanical and meterological history of the Indian Ocean, Sussex
May 2013, Utopian Archives, AHRC meeting UEA, Norwich
August, 2013 AHRC network Botanical and meterological history of the Indian Ocean, Delhi
December, 2013 Inaugural lecture on 'Natural heritage and colonial legacies in nineteenth century India', Indira Gandhi Institute of Sustainable development, Somerville College Oxford,
December, 2013 'A woman in science' SOAS, London South Asia seminar
Directorships and Memberships
Council Member, British Academy Society for South Asian Studies, 2003-2006
Member, Association of south asian environmental historians, 2006-
University of Sussex, Senate member, 2007- 2009, 2012-
Member editorial board International journal of Development and Social research
Member, editorial board, Oecology international review of environmental history
Member programme committee Anglo-American conference on environments 2010
Director, Centre for World Environmental History, University of Sussex
Project consultant
Kew Gardens and the Natural History Museum on Indian garden drawings collections, 2009
British Library, Endangered Archives and World Collections project, 2009
Natural History Museum, Wallich and Indian Natural history, 2011
Coordinator for Sussex MOU with BL and MET office on historical records and climate change, 2012
Academic consultant on Natural History Museum Video, Art and Empire, Images of Nature Gallery, 2013-2014
http://www.nhm.ac.uk/nature-online/art-nature-imaging/collections/india-collection/history-and-context/index.html
Community and Business
She is part of a Sussex network liasing with Indian corporations over their CSR policy in Eastern India. She also runs with Zuky Serper an Academia and Activism network which is engaged in bringing the university and local communities together and creating new forms of knowledge for our sustainable future.
She is engaged in building links with libraries, musems and archives in India and the U.K. to enable digital repatriation of collections that will enable creating new archives of knowledge in regions such as South Asia. These include the Natural History Museum, Kew Garden, the British library and the Met office in the U.K. and the National Museum of Natural History, the Botanical Survey of India, The Forest Research Institute Dehradhun and the National Museum, Calcutta in India.
Recent public appearances include being part of public forum, in Brunei Gallery, London on mining, adivasis and India's civil war with the with the Booker prize winning writer, Arundhati Roy, June 2011
http://www.soas.ac.uk/gallery/disappearingworld/05jun2011-burning-ground-mining-adivasis-and-indias-civil-war.html
Public seminar at the Gandhi Foundation in London to coincide with the award of the Gandhi peace prize, November 2011
BBC 4 Radio programme Night Waves on 'Ravages of Nature' in 2012.
Appearance on film on 'Indian orinthology a passage through time' produced by the Salim Ali institute of Orinthology and natural history, Bangalore
http://www.cultureunplugged.com/storyteller/PA__Azeez
Appearance on Loksabha TV, Delhi in August 2013 on decolonisation of India.
Appearance in video at Natural History Museum, Art of empire in exhibition on Indian collections at Images of Nature gallery, 2013-2014
Appearance as part of Sussex team collaborating with Kew Garden on Hooker correspondence. www.kew.org/collections/hooker/.