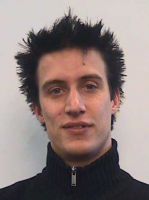 Mr
Daniel Ploeger
Biography
BMus (Royal Conservatoire of The Hague), Postgrad Cert. (Orchestra Academy of the Berlin Philharmonic) and an unfinished philosophy degree (VU University Amsterdam).
Associate of the Higher Education Academy (AHEA) (professional recognition as higher education teacher)
Role
Associate Tutor (AHEA)
DPhil candidate
Activities
Conference papers
'Digital Parts / Modular Doubles: 'human' body parts and their doubles in digital performance', annual conference of the Theatre and Performance Research Association (TaPRA), University of Glamorgan, Cardiff, September 2010
'Aural Flesh: sonified biosignals as sensual sound technology', Digital Resources for the Humanities and the Arts (DRHA) 2010, Brunel University, West London, September 2010

'Sonic Intimacy: exploring posthuman personal space in biosignal performance', (re)Performing the Posthuman - a conference on performance arts and posthumanism, University of Sussex, May 2010
'Sonic Prosthetics and Spatial Sounds', annual conference of the Theatre and Performance Research Association (TaPRA), University of Plymouth, September 2009
'Sonic Prosthetics, Mediation and Performance', Theatre Noise conference, Central School of Speech and Drama, London, April 2009
'Awareness in Motion: heightened awareness through simulated movement in a multimedia environment', International Media Laboratory, St. Petersburg, August 2008
'Using Moving Sound Sources as Compositional Material in Multimedia Performance', Annual Graduate Exchange Conference, University of Oxford, June 2008
'Objects and Sound: on the use of sounding objects in multimedia art', Engaging Objects Conference, Amsterdam School of Cultural Analysis, University of Amsterdam, March 2008
Invited Talk
'Myths of Difference: technological change and posthuman realities', Columbia College Chicago, December 2010
Exhibitions / Performances (selection)
2010
-Arcade Gallery, Columbia College Chicago, 'Feedback' performance installation
-KijkRuimte, Amsterdam, 'BUS' performance installation
-Watermans Art Centre, London, 'SUIT (performance #4: jumping)', installation as part of exhibition 'Unleashed Devices'
-Direct Action Performance Days, Berlin, 'Out/In', performance installation
2009
-KijkRuimte, Amsterdam, 'Bus Body'. Artistic research residency on sonification of biometric signals in public art, September 2009
-Marke.6 / New Museum Weimar, 'PENDENT'. Multimedia installation as part of exhibition "Hört, Hört – Seht, Seht!", August-October 2009
-Museum of Contemporary Art Basel, 'Bereit sein ist alles'. Performance installation together with Samuel Stoll.
2008
-Edition Block, Berlin.', DURE: Sculpture Musicale (after Marcel Duchamp and John Cage)'. Loudspeaker installation.
-Para/Site art space, Hong Kong, 'Play, Play!'. Performance with loudspeaker and other commodities.
-Etazhi Gallery, St. Petersburg, 'DRILL (2007)'. Video / sound installation as part of group exhibition, and solo performance at Body Navigation Festival.
Grants and Scholarships
Dutch Fund for the Performing Arts (2004, 2007, 2010)
European Cooperation in Science and Technology (COST), action Sonic Interaction Design (SID) (2008, 2009)
Prince Bernhard Culture Fund, Netherlands (2004)
Orchestra Academy of the Berlin Philharmonic (2004)
Nuffic Scholarship for Talented Students (2003)
Organisation of Academic Events
(re)Performing the Posthuman - a conference on performance arts and posthumanism, University of Sussex, May 21-22 2010
http://reperformingtheposthuman.yolasite.com
Sonic Representation of Bodies in Digital Performance

a theoretical and practical research project

From the mid-1990s, sensor interfaces for personal computers have become available to artists at relatively low cost. Since then, a substantial amount of research has been done into the use of biometric data for sound synthesis. However, this research has almost exclusively been concerned with technical innovations and has rarely addressed issues of presence and the politics of the technologized body in performance art. Correspondingly, most performance art based on the sonification of biometric signals has primarily been focused on creating original sonic material, rather than thematizing the relationship between the employed technology and the performing body.
My research project is aimed at connecting recent technical research on body sonification in digital art with current debates in media theory and posthumanism, specifically with discourses on changing understandings of the concept of 'presence' within mediatized environments. Accordingly, the project is aimed at the analysis and development of artistic approaches to body sonification that draw attention to hypermediate interactions between the visceral body and technological extensions, and, within this context, instrumentalize different methods of sound spatialization to explore the experience of a sonified body's presence.
The project identifies three approaches:
-From the perspective of recent debates on the semiotics of sound and electronic music (e.g. Philip Tagg, Thomas Turino), sound never exists outside cultural paradigms and may be read as signifier for social class, gender and race. Accordingly, it is possible to develop a 'queer' practice of performance art with sonified biosignals, in which sonification methods, which may be identified as adhering to normative technological paradigms, are deliberately juxtaposed with sonic references to technologies which are commonly considered 'inappropriate' for 'the' male body.
-A sonic body representation may be theorized as a 'digital double'. Thus, a performance may engage with issues concerning Lacan's concept of the mirror-stage and fears of the 'fragmented body', as well as thematize issues around the body and live and mediated presence in context of performance environments with a combination of visual and sonic body representations.
-Sound generated with biometric data may be read as a 'sonic prosthesis', based on a posthuman notion of the subject as a material-informational entity (N. Katherine Hayles). Thus, the sound may be regarded as an extension of the body, which reaches out into the space around the visceral body. In accordance with psychology research into proxemic behaviour (E.T. Hall), the sound may then be employed to influence spectators' haptic experience of personal space.
The theoretical discourse of the project functions as a framework for the development of software applications and several performance devices, equipped with biometric sensors and loudspeakers. The outcome of the research will be a written thesis and three multimedia artworks with the developed performance devices.
Research interests:
Installation and performance art, posthumanism, cultural studies of technology, theories of mediation, interactive performance technologies
2010/2011
Media, Music, Performance, Location
Approaches to Media Practice 2
Music, Stage & Screen (post-war avant-garde)
Brunel University West London:
Digital Performance Technologies
2009/2010
Site-Specific Performance
Further Creative Music Technologies (Max/MSP)
American Musical Theatre (American avant-garde)
2008/2009
Musical Multimedia
Site-Specific Performance