Meet & Exchange
We have an abundance of teaching space, which includes 8 large raked lecture theatres (160 - 500 capacity), 13 small raked lecture theatres (60 - 159 capacity). We also have over 100 seminar rooms, 11 computer rooms, a debating chamber, a Meeting House Chapel, plus 3 large halls which are perfect for holding an exhibition or showcase. All these spaces are available to book during the following vacation periods:
20 April - 12 May 2013 (excluding the bank holiday closure day on Monday 6 May)
15 June - 13 September 2013
11 - 23 December 2013
02 - 07 January 2014
The Jubilee Building
This is a major new addition to the University's estate, situated in the heart of campus, this large building opened its doors in Autumn 2012. It not only benefits stuedents and staff, but also conference and event organisers and delegates.
It includes a 500-seat raked lecture theatre (one of the largest in the area), a smaller 60-seat raked lecture theatre, 11 business seminar rooms and social and café facilities. The building will be flexible with space for informal and formal events, bringing people together and making the best of the possibilities offered by the new technology. Available for shared use by Conferences (this landmark new building includes staff from the School of Business, Management & Economics).
Fulton Building
Occupying a pivotal location at the heart of campus, the Fulton Building, which opened in June 2010, is a 3-storey, state-of-the-art building with 3,000 square metres of teaching space, including two 160-seat lecture theatres on the ground floor and a mix of 26 different-sized seminar rooms on the 1st and 2nd floor. This building can be booked solely for Conferences & Events.
The building has been designed to the highest environmental standards to minimise impact, including a leading-edge approach to natural ventilation that gives the building a low carbon footprint. Its concrete floors act as heat sinks and contemporary features include self opening and closing windows.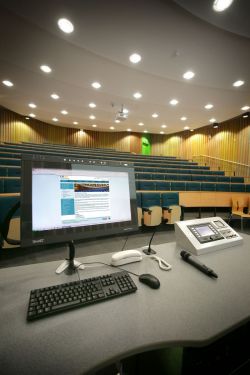 Technical Facilities
A full range of audio-visual equipment is available supported by our SDAVS team who are on call during normal working hours Monday to Friday. For extra peace-of-mind, a technician can be booked to be on-hand throughout your event.