During the summer and other vacation periods, the University of Sussex encourages use of the general teaching space and lecture theatres for external and internal use for conferences and summer schools. The University offers competitive rates for hire for over 100 seminar rooms and the 8 Lecture Theatres across campus
Lecture Theatres & Seminar Rooms
The conference centre is open for bookings throughout the year, offering various spaces to a capacity of 250 guests. There are two large conference rooms, a terrace room and a gallery room. All are bright and comfortable with high-tech audio-visual equipment. There is also a choice of six syndicate rooms and a spacious networking lounge and bar area. Outside balconies offer beautiful views of the campus and the glorious South Downs.
As a Sussex university staff member we offer discounted day-delegate packages. Included in these packages is room hire and appealing catering options.
Feedback tells us that after the actual content of a conference, food is the second most important element of their experience. Therefore we place great emphasis on our food, and we always aim to exceed your expectations, be it through satisfying menus or bespoke options. We are extremely proud of our team of chefs and we can create delectable food to suit your taste and budget.
To enquire or book events in the conference centre, please contact our supportive events team. Please note that rooms in the conference centre cannot be reserved via the generic university room bookings system (Orbs). Only our team are able to book the space required and advise you or your event organiser on your options. Your event costs can be billed to your university costs code.
As a guest of the Conference Centre we offer you:
Access to audio visual equipment
Bespoke food options or exciting catering packages
Clear contract with a breakdown of costs and the ability to charge to university cost codes
Dedicated events team who are always on hand to help
Drinks receptions and canapés
Flexible rooms with a capacity of up to 250 guests
Free Parking for guests visiting from outside the university
Production of easy to read event summaries so your delegates can quickly understand how the event will look
Signage for your seminar rooms and main room
University-only day delegate packages
Wi –Fi
The conference tariffs are available to view below, along with a selection of menus and internal day delegate packages. All conference centre bookings have a minimum catering spend of £6.00 per person.
Space: Internal Training Price List
Space: Conference Centre Lunches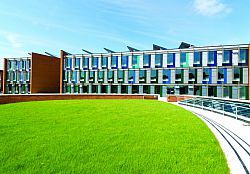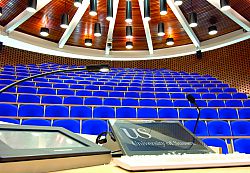 The Jubilee building
This modern addition to the campus has exceptional facilities that lend themselves to formal and more casual events.
There is a 500-seated lecture theatre, another 60 person seated-space, eleven seminar rooms, numerous large break-out spaces and a cafe.
Fulton building
This state-of-the-art, three-storey building has 3,000 square metres of teaching space, including two 160 seated lecture theatre and 26 seminar rooms.