The University campus resembles a large, self-contained village with lecture theatres, seminar rooms, accommodation, restaurants, bars, shops, sports facilities, libraries and laboratories all within easy walking distance.
Set on the edge of the South Downs, Sussex is the only university campus in England that is surrounded by a National Park, and you can walk straight out of the campus into acres of rolling green parkland.
Designed by Sir Basil Spence, the award-winning 20th-century architecture is at the heart of the campus, some buildings were given listed building status in 1993. Falmer House is one of only two post-war educational buildings in the UK to be Grade I listed in recognition of its 'exceptional status'.
Campus Eateries
A wide range of food and beverage services are available on the University campus during the summer. All outlets offer Fairtrade beverages as standard and some units also offer a range of Fairtrade, organic, vegetarian and vegan food.
Please refer to the Where to eat on campus to view opening times of catering outlets across campus.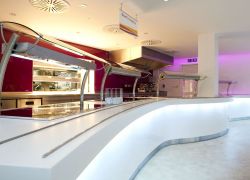 Shops and Services
There are a number of shops and services located around campus which are available to conference delegates. Most are open Monday to Friday, although hours may be limited during vacation periods. Please refer to the Shops, facilities and retail outlets for further information.
Sport and Lifestyle Facilities
SussexSport is located at two sites on campus: the Sport Centre (at the south end of campus) and the Falmer Sports Complex (at the eastern end of campus). Please refer to the Sport and Lifestyle Facilities webpage for further information.
Security and Emergency Services
The Security Service carries out 24-hour patrols of the campus and its buildings monitors CCTV cameras and car parking on campus, and can provide personal escorts on request. It also arranges for the removal of abandoned or illegally parked vehicles. The Security Office in York House is staffed 24-hours a day and can be contacted from any internal telephone including those in the residences by dialling 8234. Please refer to the Security and Emergency Services webpage for further information.
Internet Access

Wired Internet access is available free of charge in all conference delegate bedrooms.