Hans Albrecht Memorial Lecture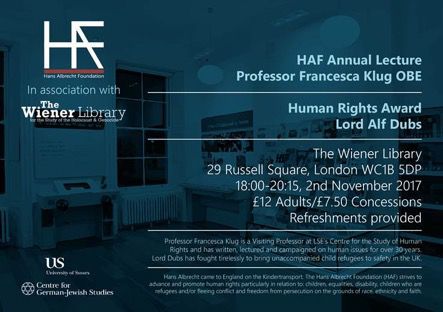 The Hans Albrecht Foundation, in conjunction with the Centre for German-Jewish Studies is delighted to announce that its inaugural lecture will be delivered by Professor Francesca Klug, eminent human rights academic, and Lord Dubs will be the first recipient of the Hans Albrecht Foundation award for his outstanding contribution to promoting and protecting the rights of children who are fleeing conflict and are in need of refuge.The new Foundation has been established to honour the memory of Hans Albrecht who was rescued from the Nazis by being brought to the UK on the Kindertransport. As a child with learning difficulties and autism, sadly he moved frequently but eventually, as an adult, was settled in Rachel Mazzier house in Brighton, a residential home run by Norwood Social Care.
Places are limited so early booking is advised.
To book tickets, please follow this link: sussex.ac.uk/cgjs/hans-albrecht
---