Santander internships
We are currently working in partnership with Santander Universities UK to provide paid internships for University of Sussex recent graduates in local small to medium enterprises (SMEs). Whilst part of the funding is provided by Santander the internships will take place with Sussex-based organisations.
Santander Internship case study - Lick Frozen Yoghurt, Brighton
Feedback from interns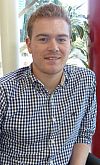 "I've never done an internship before. I thought it was something that could give me a boost and improve my career. Also, I've never worked in a business environment before, and that was very important for me.
Doing the internship was definitely the right direction for me. What is more, it has really inspired me to open my business one day!"
William Merrill (BSc Business and Management Studies 2014) - Analyst, ComplianceAssist (June 2014 to August 2014)

"I had an opportunity to work on Hybrid Power Generation systems about which I had studied during both my Bachelors and MSc courses. But working on the internship I got an excellent opportunity to gain hands-on experience of designing hybrid generators and components. I got to learn about the latest EU Regulations and Directives that govern the development of sustainable power generation. I learnt about a number of initiatives and efforts taken by the UK government and the EU to cut down carbon footprints and maintain a perfect balance between technology, development and the natural world."
Guatam Mankame (MSc Automotive Engineering 2014) - Design Engineer, Firefly Solar (October 2013 to January 2014)

"This internship experience has really boosted my confidence because I've never worked in an English speaking environment before. Now I'm ready to apply for different jobs afterwards. I also think that it was a bit 'scary' for employers to see that on my CV I didn't have any experience from an English speaking environment, but now I have something to show them!"
Claire Braun (MA Media and Cultural Studies 2013) - Customer Marketing Associate, Scramboo (February 2014 to May 2014)
If you have any questions about this scheme please contact the Placements and Work Experience team: internships@sussex.ac.uk