Summer Jobs Fair 2022
Thursday 10 February 2022
12pm to 3pm
Mandela Hall, Falmer House
Looking for a job over the summer months?
The Summer Jobs Fair on Thursday 10 February has a wide range of opportunities available to you, all in one room.
Confirmed exhibitors so far include summer internships with Career Lab, charity fundraising with RNLI and event and hospitality staffing with First Recruitment Services. Check back for more updates in the build-up to the Fair.
Some exhibitors will be accepting CVs on the day, and we recommend using our CV resources including the CV360 CV to make sure your CV is application ready, showing off all your skills and experience.
Open to: All students, all years
How to attend
You will be required to show your e-ticket and student card on arrival.
We recommend arriving 10-minutes before your timeslot begins to allow for queuing, signing-in and time to meet exhibitors.
30-minute timeslots are in place to manage the flow of attendees at the Fair. You are limited to one timeslot booking and can only attend the event during your chosen 30-minutes.
Employers confirmed so far include:
Brighton and Hove City Council

Website: www.brighton-hove.gov.uk/jobs
CareerHub profile

Paid summer work and volunteering opportunities across the local council, including Street Cleaning Operatives and Care Workers and roles in hospitality, finance and events management.

Careers and Entrepreneurship

The friendly team offers careers advice, information, workshops, events and work experience opportunities. If you are interested in starting a business, going freelance or developing a social enterprise, find out how our Entrepreneurship Team can support and develop your business ideas.

Website: www.sussex.ac.uk/careers

Career Lab

Website: www.sussex.ac.uk/careers/services/careerlab
CareerHub profile

A programme that supports Sussex students in developing skills, confidence, connections and experiences. Recruiting for over a hundred volunteering opportunities and summer internships to promote the programme.

Catch 22

Website: www.catch-22.org.uk/
CareerHub profile

Paid work and summer internships at a not-for-profit organisation that designs and delivers services that build resilience and aspiration in people and communities. Recruiting 60 Team Leader and Assistant Team Leader roles within teaching and social integration.

Concordia

Website: www.concordiavolunteers.org.uk/
CareerHub profile

A Brighton based charity that aims to support people in developing skills and experiences so they can thrive. Recruiting 60 paid summer work and volunteering opportunities focusing on youth work, including Team Leader and Assistant Team leader roles.

Connector Programme (University of Sussex)

Website: student.sussex.ac.uk/experience/connectors

The Connector Programme sees students and staff working together as equal partners, collaborating to improve the student experience at Sussex. Paid opportunities available throughout the summer.

Education First

Website: careers.ef.com
CareerHub profile

Hosting thousands of international students each summer, as they come to learn the language and culture here in Brighton. A variety of roles available such as Activity Leaders, Assistant Activity Manager, Residence Manager, Teachers.

First Recruitment Services

Website: www.firstrecruitment.co.uk
CareerHub profile

Paid temporary opportunities across summer covering the Sussex area, including roles in Hospitality, Events, Facilities, Warehouse and Production Sectors.

Hotel Bell Tent

Website: www.perfectlypitchedproductions.com/
CareerHub profile

Hotel Bell Tent have been creating boutique camps at the UK's best outdoor sports events and music festivals since 2008. Recruiting for 60-80 opportunities in Build and Break Crews and Front of House staff.

Kangaroos Mid Sussex

Website: www.kangaroos.org.uk
CareerHub profile

Kangaroos Mid Sussex is a charity that provides fun activity clubs, trips and residential stays for children, young people and adults with learning disabilities. Recruiting for 50 casual roles as Sessional Staff.

PianolessonsUK

Website: www.pianolessonsuk.co.uk
CareerHub profile

A Brighton-based piano tuition company that delivers piano lessons to students of all ages and abilities. Recruiting teachers who will offered training, a piano and a flexible approach to managing pupils.

Royal National Lifeboat Institution (RNLI)

Website: www.rnli.org/
CareerHub profile

A local charity of lifeboat crews and lifeguards that have saved thousands of lives at sea since 1824. Offering paid summer work and volunteering opportunities, including Event Volunteer, Face to Face Fundraiser and Lifeguard.

Seafront Office (Brighton and Hove City Council)

Website: www.brighton-hove.gov.uk/libraries-leisure-and-arts/seafront/seafront-office
CareerHub profile

Part of the Council services providing Beach Life Guard services to Brighton & Hove beaches, the Seafront Office have 50 paid opportunities including Facilities Assistant, Beach Lifeguard and Seafront Lifeguard Supervisor roles.

Summerley Recruitment

Website: summerleyrecruitment.co.uk
CareerHub profile

Specialist catering and hospitality agency offering a range of casual and flexible paid opportunities throughout the summer months. Over 100 events-based roles available across the south.

Wesser

Website: www.wesser.co.uk/about
CareerHub profile

Paid roles in world-leading charity fundraising organisation on behalf of some of the UK's leading charities. Opportunities available nationwide.
Adjustments for your safety
We are managing this event at limited capacity and are using attendee timeslots to manage the flow of attendees. We encourage you to wear masks unless you have a medical exemption and make use of the hand sanitiser available at the event. Students are also encouraged to check the arrangements for getting regular Covid-19 testing and to use the University of Sussex Covid-19 reporting tool.
If you have any questions, or have any access requirements, please email careersevents@sussex.ac.uk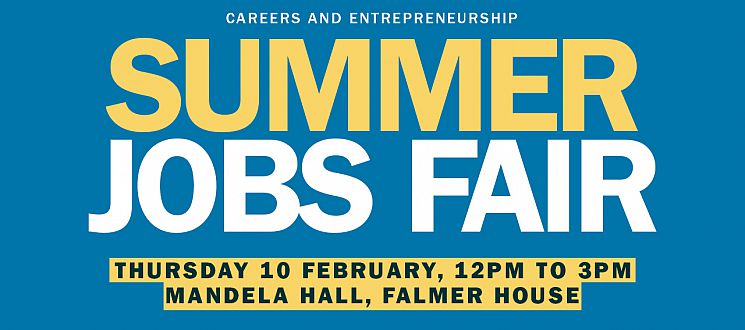 Careers and Entrepreneurship