TeamSussex runners support mental health research
By: Sally Atkinson
Last updated: Monday, 6 September 2021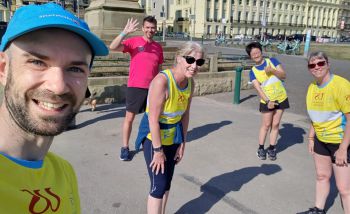 This Sunday 12 September, more than 40 alumni, staff and students will be limbering up in Preston Park, ready to take part in one of the Brighton Marathon events.
Despite delays and postponements caused by the pandemic, our TeamSussex runners have carried on training and fundraising and we're hugely proud of their efforts.
So far, nearly £14,000 has been raised in support of world-leading mental health research at Sussex.
Mental wellbeing affects us all and is one of the major public health challenges of this century. From children's mental health to how acts of kindness affect our wellbeing, our research is making cutting-edge discoveries and giving new hope.
If you would like to find out more and join TeamSussex and their supporters in donating towards this vital research, please visit the University's Just Giving page.
And if you are in Brighton on Sunday and planning to watch the Brighton Marathon, do look out for TeamSussex in their yellow vests and t-shirts and give them a cheer!
Information on getting around on race day can be found on the Brighton Marathon's spectator advice webpage.
Wishing all our TeamSussex runners the very best of luck for Sunday!