Scientist sends donated equipment to Nigerian lab
By: Jessica Gowers
Last updated: Wednesday, 16 December 2020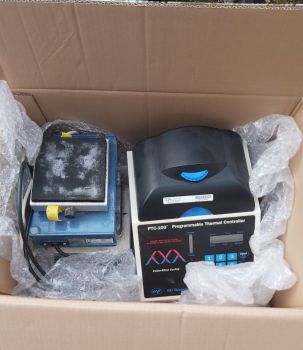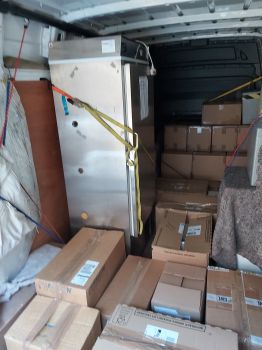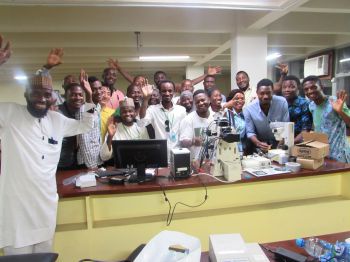 A University of Sussex research fellow has collected and shipped a variety of science equipment to help establish a state-of-the-art laboratory in Nigeria, following a call for donations.
Dr Mahmoud Maina, Research Fellow in Sussex Neuroscience and Outreach Director for TReND in Africa, gathered donations from colleagues at Sussex to help equip a lab at his home University in northern Nigeria.
The equipment will be used for Biomedical Sciences research at Yobe State University and will also be used to help train the next generation of African scientists.
Donations from the School of Life Sciences included an LMS Cooled Incubator, PCR machines, blotting equipment, various microscopes, fridges and freezers, centrifuges, shakers and pipettes as well as many consumables such as Eppendorf tubes, pipette tips and Petri dishes.
These donations, as well as previously secured equipment through Sussex and TReND in Africa will enable Dr Maina to establish a molecular bioscience laboratory at the Nigerian university.
He said: "I am surprised by the outpouring support shown by scientists and groups to help us equip a state-of-the-art lab in Nigeria. Some have donated equipment and consumables and others who have nothing to donate have either passed me useful information to support the initiative or said kind words to encourage me about the project. I am particularly impressed by my non-Nigerian colleagues who are involved in this project, including Dr Takeshi Yoshimatsu and Dr Raouf Issa – both from Sussex Life Sciences, who will come along with me in 2021, alongside other scientists from TReND in Africa, to establish the lab and train local scientists.
"But to get the lab fully equipped, we still need more equipment, specifically, gel documentation system for chemiluminescence or fluorescence detection, vibratome and fluorescence plate reader. So I still call on scientists to spread the word and help us get this equipment."
Dr Maina aims for the lab to serve as a hub to help inspire and train future Nigerian scientists through TReND activities.
He also intends to lead a small research team in the lab, all while continuing to pursue his own research into the causes of Alzheimer's disease here in the UK.
He added: "Establishing a lab is not easy, especially given that I presently work in the UK and given my career stage. But this was simplified for me through the incredible support of TReND who have supported me from the onset and through whom I continue to get more donations. I am also particularly lucky to have a mentor (Prof Louise Serpell) who has always been supportive of my initiatives. I have received support and commitment from officials in Yobe State that will hopefully enable this project to have a long-lasting impact."
Dr Maina is the Outreach Director for TReND in Africa, a higher education charity dedicated to improving university level science education and research in Sub-Saharan Africa. He also founded the Science Communication Hub Nigeria (SciCommNigeria) which aims to promote public understanding of science in the country, while enhancing the visibility of African scientists more widely. In 2019, Dr Maina won a Kroto Award for Public Engagement from the University of Sussex's School of Life Sciences for his dedication to promoting public understanding, trust and support for science in Africa.
To donate to the project, please contact Dr Mahmoud Bukar Maina on mb369@sussex.ac.uk and to find out more and view regular updates, visit the BioRTC website.