Law students gain invaluable real-world experience from Sussex alumnus
By: Sally Atkinson
Last updated: Tuesday, 8 December 2020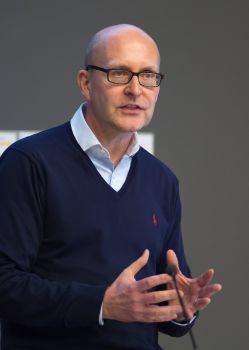 For ten years, Sussex law students have been benefitting from commercial awareness workshops run by co-founder and Managing Director of Mason Hayes solicitors Marcus Hayes MBE (Law 1984).
This autumn Marcus has already delivered two such workshops, via Zoom, for undergraduate and GDL students in the University's law department.
For the students, this isn't just a case of turning up at the appointed time – there is plenty of work to do in advance. Marcus provides the students with a set of case documents to study, asking them to consider the positions of both parties in the case and to prepare strategies that could be suggested for them.
One of the students, Lorcan Young, describes how valuable the experience is for students wanting to develop and practice their commercial awareness:
"We were given a case study to explore how commercial issues influenced and intertwined with the legal issues at hand. During the workshop, we discussed the strategies we had prepared and examined their effectiveness from a commercial perspective.
"Throughout the workshop, Marcus kept us on our toes, challenged our reasoning and asked us to justify our positions."
Jeanette Ashton, Lecturer in Law & Employability Lead for the Law department at Sussex sees a clear benefit to students engaging in these workshops:
"Marcus' workshops provide students with a real insight into commercial law in practice. It is great to see students being encouraged to think beyond their academic studies and into the business world."
Lorcan added that the workshop helped students to develop their ability to make reasoned judgements, indicating that the questions they were asked were similar to those that would have been directed towards a trainee solicitor.
Marcus enjoys adding to the students' legal education. He says: "They are always keen, sharp and perceptive and find the workshops invaluable with regard to their ongoing training as they pursue an ultimate legal career.
"Commercial awareness is an integral part in any young lawyer's training who wants to ultimately pursue a career in commercial law," he adds.
More workshops are planned in future and any students wanting to find out what's coming up are encouraged to regularly check the Employability bulletin and Careers and Employability for Law Students Canvas site.
Marcus is one of many valued volunteers from the Sussex alumni network who give up their time to help students and share their experience and skills.
Find potential mentees and mentors, expand your network and show how you might be willing to help when you sign up to Sussex Connect, the University's networking and mentoring platform for Sussex students, staff and alumni.