New electricity substations keep the power flowing on the Sussex campus
Posted on behalf of: Estates and SEF
Last updated: Thursday, 19 March 2020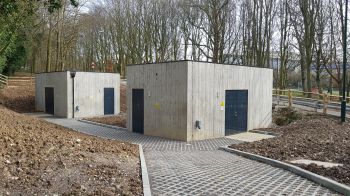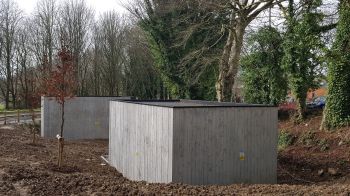 Two new electricity substations on the University of Sussex campus will improve the delivery of reliable energy to students and staff and add capacity to accommodate additional demand in the future.
The modern, automated plant in the two single-storey switch rooms will be easier to maintain and more reliable, reducing the chances of electricity outages.
Constructed on Southern Ring Road, close to the southern boundary of the University's Falmer campus, one high-voltage substation contains the intake switchgear and metering equipment for UK Power Networks (UKPN); the other holds the University's switchgear, supplying electricity to buildings via a network of low-voltage substations across campus.
Their installation marks the latest milestone in the ongoing development of the Sussex campus, and the culmination of a two-year project that has involved detailed planning and close collaboration with others including UKPN.
The work also has included the laying of several kilometres of additional electricity cabling (from a substation in Moulsecoomb, along Stony Mere Way and past the Sport Centre to the two new substations) as well as the demolition of the previous 50-year-old substation.
Francine Hill, Deputy Director of Estates, says: "We've invested almost £4m in this new infrastructure to meet the ever-increasing demand for electricity on campus and ensure that everyone has access to sufficient energy.
"The two new substations will increase power quality and reliability, because they are less likely to become overloaded; this will reduce the risk of service disruptions, particularly during extreme weather."
They will also provide futureproofing for additional developments. The load on the campus electricity infrastructure has increased in recent years with the construction of a new student village on the East Slope, which will house about 2,000 student bedrooms by the time it is completed in 2021. More residents will also be living on campus in future if the University's proposals to develop student accommodation on the West Slope receive planning approval.

Francine explains: "We have considered carefully the potential impact of increased demands on the supporting infrastructure for campus, including the supply of high-voltage electricity.
"By replacing the main intake electricity substation on campus and its internal switchgear, we've now upgraded this supply.
"Without the improvements that the two new substations will provide, the scale of our planned development on campus could not be supported by the available power in the campus network."
If you'd like to leave a comment, enter your ITS username, password, and your comment. The comment may need approval before it is displayed, so don't expect your comment to appear right away.
By submitting a comment you are agreeing to the Acceptable Use Policy.