Christmas collection for those in need in Brighton & Hove
Posted on behalf of: Sussexsport
Last updated: Wednesday, 27 November 2019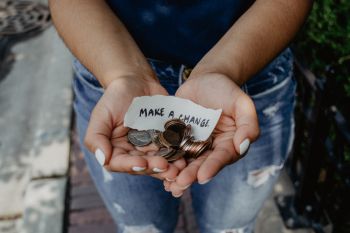 Sussexsport is asking the campus community to donate food, toiletries and children's items for a charity collection that will help Brighton & Hove residents this Christmas.
The charity drive is a joint initiative with the Brighton and Hove CCG (NHS), Hangleton Food Bank, Pelican Parcels and RISE refuge, and items donated will go directly to people in need throughout the city.
The use of foodbanks in Sussex has increased by 40% since 2013 and they provide vital support to those who are in need. We are collecting donations for the Hangleton foodbank, which supports around 30 people each week.
In our city, 20% of children live in poverty. Pelican Parcels aims to ensure our community becomes one in which all families and carers have the essentials for their children. They distribute items for babies and children up to age 10 to families experiencing financial hardship via existing local family services.
The RISE refuge provides a safe place for women and their children escaping domestic abuse and offers specialist support to overcome the effects of abuse. Staff work with women to secure safe, permanent accommodation upon leaving the refuge and aim to make this distressing time as positive as possible. Usually at Christmas, around 15 women and 17 children stay at the refuge and for most it will be the first safe Christmas they have had in a while.
Sussexsport is collecting a range of items: store cupboard foods, toiletries and baby and children's toys, clothes and bedding. Anything you can give will really help.
If you can donate:
Please bring donations to the Sport Centre reception (near the ACCA) from Friday 6 December – Monday 9 December. (We are unable to store donations before this date because of space limitations, so are asking for all donations on these days only. If you have items to donate but are not on campus at this time, do let us know.)
Items needed:
Arts and crafts materials
Baby baths/inserts
Baby changing bags and mats
Baby formula (unopened)
Baby towels (in new condition)
Bedding for Moses baskets/cots
Biscuits/snack bars/mince pies
Baby bouncer chairs/rockers (with 3-point safety harness)
Baby wipes and nappy cream (unopened)
Children's books (non-battery)
Children's clothing (under age 10, new)
Cooking sauces e.g. for pasta
Dried fruit
Gravy granules
High chairs (clean with safety harness)
Jam and marmalade
Lentils
Long-life fruit juice and milk
Mobiles (for cots)
Moses baskets
Muslins
Nappies
Noodles
Oil (for cooking)
Peanut butter
Playmats
Pram accessories e.g. sunshades
Safety gates, plug covers, cupboard locks
Salt, pepper and spices
Savoury snacks
Supermarket vouchers
Tea, coffee and sugar
Tinned fish/meat/fruit/veg
Toiletries (including sanitary/maternity/baby products)
Toys (non-cuddly)
Washing powder (non-bio)
Washing up liquid
Gifts for women and children of all ages
Please contact Senior Duty Manager Andy Stone with any questions and thanks for your support.