100 new study spaces in the Library
Posted on behalf of: Estates and Library
Last updated: Friday, 20 September 2019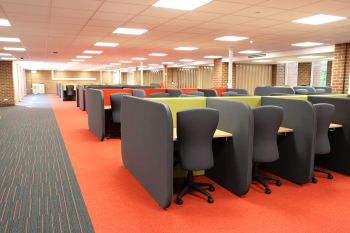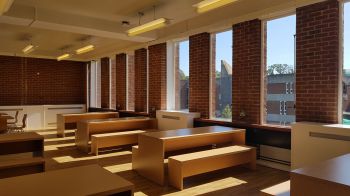 More than 100 new study spaces are available in the Library, following renovations during the summer. Two areas previously occupied by the Institute of Development Studies (IDS) and John Smith's bookshop have been redeveloped in response to student feedback.
The remodelled IDS space is designed for quiet study. It features individual and group study facilities, height-adjustable desks, power outlets, recharging stations and extra toilets. There is also a freshly decorated second courtyard, providing a green space where you can study in the open air.
The previous bookshop space has been refurbished as a group study space with access to power outlets. The Library took forward a student idea and hot food is now permitted here, allowing you to have a meal while you study.
Jane Harvell, Director of Library Services and University Librarian, said: "I'm really excited to let our users know we have opened two new and very different study spaces in the Library.
"A large area on the first floor is ideal for quiet study, offering a number of features we've been asked for by students.
"The second area is adjacent to the café and accommodates requests for a space to eat hot food while working.
"We will be continuing to listen and make changes in collaboration with students in coming years to make the best possible use of the space we have on campus for study."
Chris Harding, Undergraduate Education Officer for the Students' Union, commented: "This is amazing news for Sussex students. Our previous Undergraduate Education Officer, Ella, and the Library have worked tirelessly to improve and increase study spaces on campus.
"Although there is still a demand for study spaces, this is an incredibly positive step in the right direction."
Other improvements in the Library over the summer include a new book sorter, which will help students to borrow and return books more quickly.
Keep an eye out for more changes in the Library. If you have suggestions for using and improving spaces, please send your ideas to library@sussex.ac.uk.
You can find further information about study spaces and resources on the Student Hub and the Library web pages.
If you'd like to leave a comment, enter your ITS username, password, and your comment. The comment may need approval before it is displayed, so don't expect your comment to appear right away.
By submitting a comment you are agreeing to the Acceptable Use Policy.