Sussex Teaching Award for Dr Mick Taylor
By: Justine Charles
Last updated: Wednesday, 19 June 2019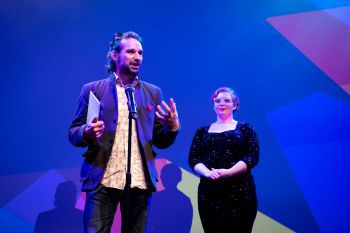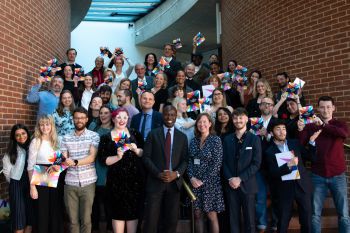 Teaching Fellow Dr Mick Taylor has won a Sussex Teaching Award for "better world" for his fantastic work engaging in the local community with The Hummingbird Project.
Founded as a grassroots organisation in Calais, The Hummingbird Project are a charity working locally across Sussex with young refugees & campaigning nationally. Based in Brighton since 2017, they provide a range of services developed around the needs of young people. Mick is their Education Lead and has been running weekly education support sessions, which offer young refugees 1-1 and small group maths and English support from specialist teachers.
Mick was presented with his award at the University of Sussex Education Awards. Acclaimed broadcast journalist Clive Myrie hosted the lively ceremony at the Attenborough Centre for the Creative Arts, where 17 trophies were presented to the winners.
Mick said: "I'm grateful to Sussex for supporting the vital work I do with the Hummingbird Project. Our charity is only able to continue this work thanks to kind donations from the public, so please support us by giving a small monthly donation or by buying our lovely Hummingbird Heart badges from our Etsy shop. Thank you"
.