Prize-winning video gives insight into life as an international student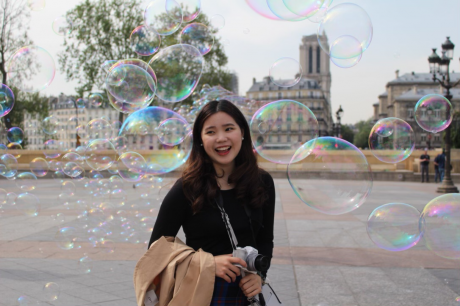 An international student at Sussex is a runner-up in a competition run by the British Council to showcase what it's like to study in the UK.
International students were invited to enter the competition by submitting a photo or video of their favourite UK university moments on Facebook and Instagram using the hashtag #StudyUKWOF.
Janine (Jungin) Kim, a second-year Global Media and Communications student from South Korea, submitted a short video. Below you can view her entry, which includes snapshots of University accommodation, food, Brighton and the friends she has made as an exchange student from the Chinese University of Hong Kong.
View this post on Instagram
As a runner-up Janine received an Amazon gift voucher.
Janine said: "I'm highly interested in producing video content and I believe it can deliver messages more effectively than any other means. I entered the competition because I thought it might be a good chance to share my experiences in the UK, as well as to make a record for myself.
"I used hundreds of video clips from my daily life. The finished video lets me look back on the steps I have taken and really appreciate all the experiences I have had as an exchange student at Sussex. I hoped to share a message that spending a year in this beautiful city, Brighton, has allowed me to grow up and to step out of my comfort zone.
"I didn't expect to be selected as a runner-up and I'm really grateful to share my video with other international students who are currently studying in the UK or are looking forward to doing so."
Other competition entries from Sussex students included a video by Psychology undergraduate Miriam Hiersch, who said: "Studying in the UK has been one of the best decisions of my life. I've met amazing people, my campus is beautiful (especially when there are horses and talented singers) and it's only a short bus ride away from the beautiful Brighton beach and cute little tea shops. Absolutely love it here!"
Mariana Díaz Fernández, a postgraduate student on the MA in Media Practice for Development and Social Change, also submitted a video entry. She said: "Studying in the UK has completely changed my life. I've met incredible people, worked the hardest and learned the most about the world and myself. The University of Sussex has given me the best year of my life so far."
Both Janine and Mariana are part of the University's Student Digital Network, helping to create social media content that shows what it's like to be a Sussex student.
Check out the British Council Study UK Wall of Fame to see other photos and videos showing life as an international student in the UK.
---
If you'd like to leave a comment, enter your ITS username, password, and your comment. The comment may need approval before it is displayed, so don't expect your comment to appear right away.
By submitting a comment you are agreeing to the Acceptable Use Policy.