Sussex students receive national Politics Society of the Year award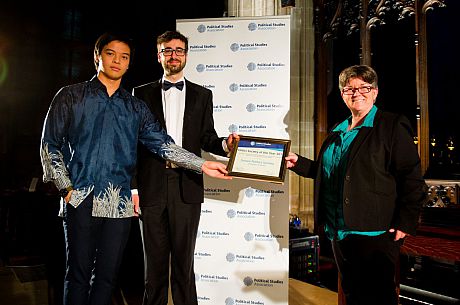 Sussex Politics Society has been named Politics Society of the Year for 2018-19 by the Political Studies Association (PSA).
This prestigious prize recognises the student group's "outstanding year of supporting and encouraging student engagement with political life", as noted by the judging panel.
Throughout this academic year the committee has organised wide-ranging events both on and off campus.
After reviewing the society's activities, the PSA's judging panel commented: "The committee should feel proud of the important role they have played in furthering the study of politics on their campus."
The prize was presented at the PSA Annual International Conference Dinner in Nottingham on the evening of Tuesday 16 April. President Peter Gallizzi, who is in the second year of his Politics and International Relations degree, and Secretary Dzaky Naradichiantama, a second-year International Relations student, attended on behalf of the Politics Society.
Peter said: "Politics Society is thrilled and honoured to be recognised by the PSA, and we are grateful for the opportunity to collect the award in person. Our society aims to provide industry insight and practical advice from politicians and professionals, create a sense of community around Politics courses and allow students from other departments to experience politics in a welcoming environment."
The University's Head of Public Affairs, Lenny Rolles, commended the society: "It is great to see the hard work and dedication of the students from the Politics Society recognised by the Political Studies Association. It has been a pleasure to attend their events and work with students who have such a passion for politics. The Politics Society have managed to secure fantastic speakers over the past year and I would encourage anyone interested in politics, world events and debate to attend the exciting events planned for the future."
Local election question time – Wednesday 17 April
The next event to be run jointly by the Politics Society and the University is taking place on Wednesday 17 April from 4.00pm to 6.00pm in the Fulton A lecture theatre. This hustings event is a chance to put your questions to political candidates standing for election in Brighton & Hove. You can register for free via Eventbrite.
Top image credit: Political Studies Association.
---
If you'd like to leave a comment, enter your ITS username, password, and your comment. The comment may need approval before it is displayed, so don't expect your comment to appear right away.
By submitting a comment you are agreeing to the Acceptable Use Policy.