Looking back on a green year at Sussex
Since the University adopted Ecosia as its default search engine for students in October this year, their web searches have resulted in nearly 5,000 trees being planted worldwide.
Ecosia is an internet search engine which donates 80% of profits generated through its advertising revenue to conservation organisations. It has over 7 million active users and has planted almost 40 million trees to date.
Ecosia on Campus - the student group which worked with IT Services to help Sussex make the change - are now setting their sights on other UK universities to encourage them to convert to Ecosia too.
Chief Operating Officer, Tim Westlake, said: "It's wonderful to see students and staff making this positive contribution to the environment in such an innovative way. The work of the students and ITS colleagues involved in the Ecosia project is a fantastic example of what we can achieve when we work together for a greener, more sustainable Sussex.
"Please keep an eye out in the New Year for the ways you can get behind our Go Greener initiatives and make a real difference to the University's carbon footprint."
The University has been busy moving forward with a range of other sustainable initiatives designed to help it reach its Go Greener target of cutting carbon emissions by 45% by 2020.
Since the start of term, SussexFood has been busy trying to cut waste on campus.
Since September, 30,000 hot drinks have been served in reusable cups on campus. This follows the added charges for hot drinks served in disposable cups and the installation of new vending machines which accept reusable cups.
There have been some big changes in Dine Central. Single-use plastics are no longer used in the restaurant, all drinks are in either cans or glass bottles, and much less red meat is being used in meals. Stop by the first floor of Bramber House to check it out.
The University and SussexFood are also working with sustainability charity Hubbub on a student-led project to try and reduce the amount of food customers throw in the bin straight from their plate. It's estimated that emissions from food waste are equal to taking one in four cars off the road.
During the summer, thousands of tonnes of chalk were dug up and transferred from one side of campus to a strip of 'improved pasture' on the other side. While new student residences are taking shape on the excavated site, the new pasture will soon become home to some of the UK's rarest species of orchids and butterflies – becoming a living lab for botanists and ecologists. More than 90 per cent of this ancient habitat across southern England and northern parts of Europe has now been lost, so it's wonderful to see Sussex helping to preserve its local landscape.
At the start of the year, Go Green Week was marked with a series of litter picks in an around campus. A variety of staff, students and contractors from Balfour Beatty spring cleaned the woods in the north of the campus – collecting bags of rubbish, plastic crates and even a noticeboard. Sussexsport also ran the University's first plogging event, which saw runners/walkers picking up litter while exercising at the same time.
What else has the University been doing to reduce its environmental impact?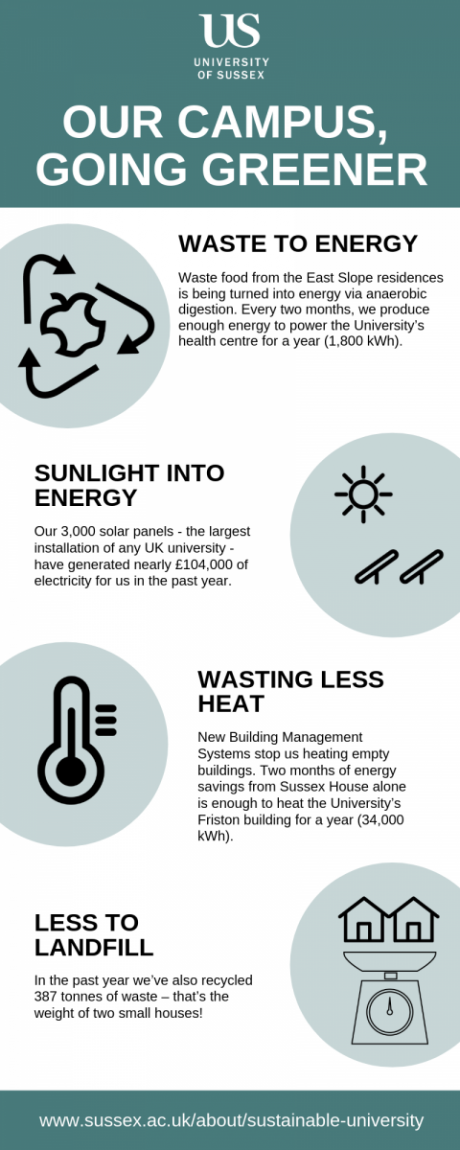 ---