Trade friendship – Georgetown University and Sussex academics continue to shape thinking on UK-US trade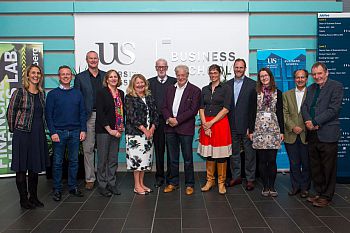 A high-level delegation from Georgetown University and colleagues from the UK Trade Policy Observatory at the University of Sussex met this week to take forward joint work on the future of UK-US trade and to engage government officials from the Foreign and Commonwealth Office; the Department for International Trade; HM Treasury; Digital Culture, Media and Sport; Business, Energy and Industrial Strategy; and the Ministry of Justice.
With less than six months to go until Brexit and no deal in sight between the UK and EU, as well as the Trump administration's trade war with China threatening global economic growth, discussions focused on the possibilities of and prospects for a UK-US trade agreement in a climate of uncertainty, the future of the multilateral trading system, and wider trade and geopolitical issues.
The visit marks the continuation of a Sussex-Georgetown dialogue on trade that started earlier in 2018 initiated by Professor Spiros Dimolitsas, Senior Vice President for Research & Chief Technology Officer at Georgetown University, and Professor Rorden Wilkinson, Deputy Pro-Vice-Chancellor for Education and Innovation at Sussex.
Professor Adam Tickell, Vice-Chancellor of the University of Sussex, commented: "I am very keen to support this important work at a critical moment for the UK. Trade matters for the economy as a whole, and it is great to see senior researchers engaging with policymakers on both sides of the Atlantic on this issue."
Professor Dimolitsas said: "I am thrilled that such engaging conversation between academics from these two institutions is taking place on such a topical subject. I am confident that the richness of the deliberations will be of use in thinking about trade in both the US and the UK."
Professor Pietra Rivoli, Vice-Dean of the McDonough School of Business at Georgetown, noted: "We have many overlapping interests and we very much look forward to continuing to have both academic and policy-focussed discussions around the many critical trade issues facing both the US and the UK."
Professor Wilkinson added: "Our collaboration is unique in the perspectives it brings together, the extent of our combined expertise, and the capacity we have to contribute to policy on both sides of the Atlantic."
Joining Professors Dimolitsas and Rivoli from Georgetown were Brad Jensen, Rod Ludema, and Anna Maria Mayda. They were hosted by Sussex colleagues Michael Gasiorek, Peter Holmes, Emily Lydgate, Ilona Serwicka, Erika Szyszczak, Jim Rollo, Alan Winters and Rorden Wilkinson.
The group's first collaborative output setting out the key issues for a transatlantic agreement is: Briefing Paper 20 – The Future of US-UK Trade: What case for a bilateral trade agreement?
---