South African Sussex alumni at the heart of innovation and development
In June, South African alumni from the 1960s to 2018 enjoyed a Johannesburg reunion, co-hosted by new alumni volunteer consul in Johannesburg Garth Williams (BMEc 2017) and fellow alum and visiting research fellow from SPRU, Julian Gregory (BMEc 2017). The evening was a great chance for alumni to network, find out how the Mandela Scholarship fund has developed since its inception over 45 years ago, and discuss innovation and development in the region.
Amongst the guests were Sara Chitambo (Media Studies, 2009) who obtained her MA in Digital Film Production at Sussex. She is now a project manager at John Hopkins Health and Education in South Africa, promoting sexual and reproductive health in the community through her award-winning TV shows. Speaking about what inspires her, Sara said:
"We need to develop Africa as a global leader – we are such a rich continent and I want to use my voice and storytelling skills to help elevate the future of Africa."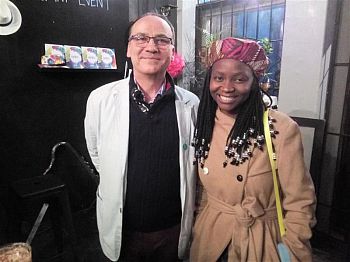 Sussex memories and the Mandela Scholarship
Also attending the event were Essop (African Studies 1965) and Meg Pahad (English 1966). They met as students at Sussex in the mid-1960s when it was just growing as a university, and studied alongside former South African President Thabo Mbeki (African Studies 1966). It was Thabo who introduced Essop to his future wife Meg, and the Sussex alumni have since maintained a long friendship. Meg, who came to Sussex from Manchester, said she found the experience transformative:
"I encountered people who totally changed my life and everything about the way I thought".
After Sussex, Meg went on to teach, and remembers moving from Britain to Prague and then on to South Africa during times of great change for both countries. Thabo went on to become President and Essop served as a minister in his office. Essop said:
"Thabo and I started the Mandela Scholarship at Sussex. My time there allowed me to grow intellectually, academically and politically."
Formerly established in 1973 by the Student Union, Sussex was the first UK University to offer a Mandela Scholarship, to enable South Africans oppressed by apartheid to study here. Since then, the Mandela Scholarship has supported more than 70 students to gain a qualification and return home to become leaders in their field: scientists, environmentalists, development professionals and government ministers.
Tshegofatso Motaung (International Relations 2010) studied a Masters in Global Political Economy in the year that South Africa hosted the World Cup. It was a special time for her to be a South African in the UK; she enjoyed coordinating students from different countries to watch World Cup celebrations. Tshegofatso has maintained an interest in media and foreign affairs since leaving Sussex, having worked for the UK government for the Department UK Trade and Investment after graduating; she is now a writer and anchor for a TV show on Africa's business and current affairs, currently in production.
Speaking at the reunion, Tshegofatso said:
"There are a lot of issues currently facing our country and the rest of the continent, and I am particularly interested in using the media to help change the narrative on Africa. I have over the past few years travelled across the continent looking to see how we can improve collaboration, and contribute to intra-Africa trade while rebuilding our continent in the process."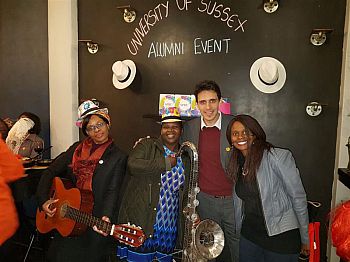 Forums for African innovation and development
Visiting research fellow Julian Gregory, from SPRU, together with alum William Respondovesk (BMEc 2017) from Brazil, were in South Africa to present papers at the annual Trade & Industrial Policy Strategies (TIPS) Forum held in June. This year's forum aimed to deepen the understanding of the relationship between finance and industrial development, and of what financing is required for industrial development.
Garth joined Julian and William to speak at the African Innovation Summit (AIS) 2018 satellite event. AIS is an Africa-wide and homegrown initiative aimed at harnessing the innovation potential of the continent. It aims to mobilize the people, especially those with the 'power to act', into a coalition for collective action to promote and build an enabling environment for innovation in Africa.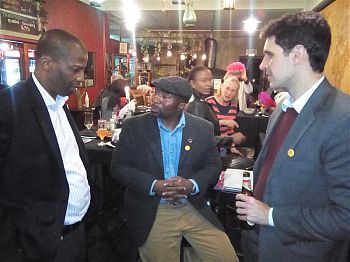 Mandela Scholarship campaign – wanted, your memories of Mandela
To mark the centenary of Mandela's birth, Sussex will be running a campaign to highlight the impact of the Mandela Scholarship at Sussex. Founded in 1973, the scholarships continue to this day and three more South African scholars will arrive at Sussex in September. We are asking people to share their memories of Mandela, and how he inspired them to study. If you benefitted from a Mandela Scholarship, we would welcome your story too. Please email Rob Yates with your stories and memories. If you wish to donate to the Mandela Scholarship Fund, you can do so here.
Sussex Connect and volunteer alumni consuls
Photos from the alumni reunion are on our new networking and e-mentoring platform Sussex Connect, and hosted within our new regional African networking group. You can use Sussex Connect to organise your own alumni meet-ups and reunions. We'll be adding more regional groups to the platform that match our global networks of volunteer consuls shortly. You can find out who your nearest volunteer consul is and more about the role here.
---