Plans for new café/bar in Northfield take shape
It is now only a few weeks until East Slope bar says its final farewell and closes for the last time. This will be a sad moment for many members of our campus community who have fond memories of this popular campus venue.
However, exciting plans are well underway to install a new café/bar in the current Northfield social space, offering a fresh new space for staff and students to enjoy.
Over the Easter break, new flooring was laid in the Northfield social space, in preparation for the full fit-out of the new bar which will take place over the summer.
Simon Neale, Director of Estates said: "We know that having good social space is important to our students, so we have worked closely with the Students' Union on the design for a new café/bar in Northfield that will be completed in time for Welcome Week this September."
The new bar will operate slightly differently from the existing East Slope bar, as Director of Commercial Services Tarek Khalil explained: "We have taken into account the café/bar's new location in the heart of the Northfield student residences.
"The Students' Union is very mindful of ensuring that the new facility becomes an integral part of the community at Northfield and caters to the needs of students living there. This includes the needs of student parents and their children. As such, the bar will not operate past 11pm on week nights, nor past midnight on Fridays and Saturdays."
Late-night events are not off the Students' Union schedule, though. Entertainment such as DJ nights and established occasions such as SKINT will all be moved to Falmer bar, which has a late licence and is more suited to such events. Falmer bar will also remain open throughout the summer period so that the Students' Union can continue to provide a social space with bar and catering service outside of term time to students and staff.
Artist's impressions (see below) show the concept for the layout of the new bar. The exact finish, fixtures and fittings that will feature in the new bar are still being finalised, but it is expected that some of the existing equipment and furniture from the beloved East Slope will be recycled, while the area also gets a fresh, new facelift.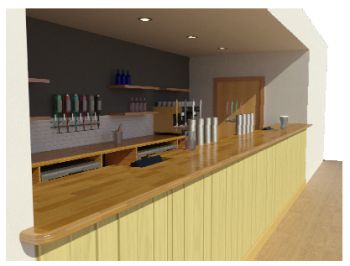 ---
If you'd like to leave a comment, enter your ITS username, password, and your comment. The comment may need approval before it is displayed, so don't expect your comment to appear right away.
By submitting a comment you are agreeing to the Acceptable Use Policy.