Christmas collection for the homeless in Brighton & Hove
Posted on behalf of: Sussexsport
Last updated: Monday, 27 November 2017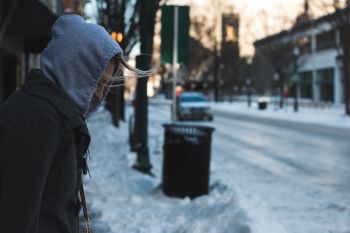 Sussexsport is asking the campus community to donate as much warm clothing as possible for a charity collection that will help homeless people in Brighton & Hove.
The charity drive is a joint initiative with the Brighton and Hove CCG (NHS), Sussex Police, and Brighton & Hove City Council, and the clothing will go directly to the people who need it via street drops and shelters throughout the city.
There are 3,000 homeless people on the streets of Brighton & Hove and, with 20,000 people on campus, we could make a real difference as the cold weather sets in.
Please go through your wardrobes and dig out any warm clothes that you no longer need: jumpers, coats, hats, scarves, gloves, trousers - anything you can give will really help.
Items will be collected on Friday 8 December on campus and then picked up on Saturday 9 December, for immediate distribution to vulnerable people in the city.
If you can donate:
Please bring clothing donations to the Sport Centre reception, near the ACCA, on Friday 8

December.

(We are unable to store donations before this date because of space limitations, so are asking for all donations to be made on one day - if you have items to donate but are not on campus on the Friday, do let us know.)