Staff and students take on Sussex County Cricket Club in a friendly match on campus
Sussexsport welcomed Sussex County Cricket Club (Sussex CCC) staff to campus yesterday evening (Monday 17 July) for a friendly match in the summer sunshine.
Staff and students from the University took on the County Ground's staff team, aptly named the Sussex Staff Sharks, in glorious sunshine at Sussexsport's Falmer Sports Complex grounds.
The friendly is part of a continued community link with the County Cricket Club: Sussex CCC already use the University's sports facilities for coaching and training, and the Club's staff have assisted Sussexsport in developing an indoor premier league cricket event for students.
Sussex CCC's CEO and former England Rugby fly-half Rob Andrew also took part in the friendly match, with the Sussex Shark's staff team claiming ultimate victory. The game was played in great spirit throughout and Sussexsport hope to continue to offer more evening cricket matches for staff and students throughout summer.
Head of Sport, Simon Tunley, said: "It was a pleasure to welcome and play Sussex County Cricket staff at the University in what was a most memorable match, particularly playing against rugby legend Rob Andrew.
"We are looking forward to a rematch in the near future."
Sussexsport are hoping to run more cricket friendlies over the summer; if you're a member of the campus community and would like to find out more, contact M.Slowey@sussex.ac.uk.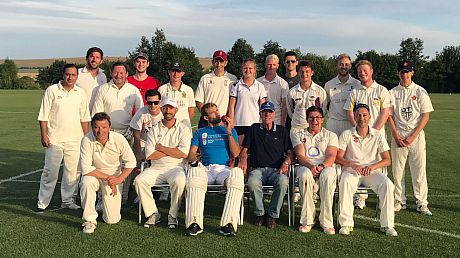 Sussex staff and students take on Sussex County Cricket Club's staff team the Sussex Staff Sharks, headed by Sussex CCC's CEO and former England Rugby fly-half Rob Andrew, front left.
The University of Sussex team elected to bowl first after winning the toss. Head of Sport Simon Tunley opened the bowling with some tight lines and restricted the batsmen who were looking to start strong against the University team.
The breakthrough came in the ninth over when Sussexsport's Marc Slowey bowled Sussex County Cricket Club's CEO Rob Andrew with a slower ball, breaking their 40 run partnership. After the wicket, Sussex Staff Sharks started to open their shoulders with two of their batsmen reaching 30 in quick fashion and retiring.
The spin bowling of IDS's Duncan Edwards and Ahmad Ghouri, Senior Lecturer in Commercial Law, really helped to restrict the total and get wickets throughout. Sussex CCC's Staff Sharks were in fine form though and found the gaps in the field to put on 138 for eight wickets, with Simon Tunley taking a high catch to end the innings.
The University opened batting with David McColville, a tutor from the International Study Centre and Sussexsport's Ben Ospalak. And after a promising start with Ben scoring off his first delivery, he attempted to play a ramp shot and played the ball on to his own stumps. But David went from strength to strength and piled on the runs for the University team, with the aid of Duncan at the other end.
Sussex Staff Sharks bowling and fielding were consistent and a constant danger to the University's batting side however, and this eventually paid off when Duncan lost his wicket.
Ahmad played in the T20 spirt and went after the bowling straight away, scoring quickly to put the University back in the game. But Sussexsport staff member and star player Alamgir Khan was bowled on a golden duck, making it an uphill battle for the side for the remainder of the match. University students Pete Dommett, Harry Adams, Doron Mazor and Katie Hodgetts played well but could not achieve the total; falling just 12 runs short to give Sussex CCC's Staff Sharks the match.
---