Why the JRA was a surreal experience for Claudia
By:
Last updated: Wednesday, 19 September 2012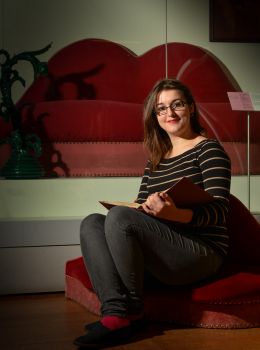 The Sussex surrealist Edward James worked with the likes of Salvador Dalí to produce some of the movement's most iconic works – and his story comes under the spotlight in English student Claudia Cockrell's JRA project.
Claudia developed a taste for the surreal while studying English modernism on her undergraduate degree course. Discussions with her tutors led her to the Edwardian aesthete and eccentric Edward James and a place on the JRA programme.
During the summer, Claudia carried out research at Brighton Museum and Art Gallery (custodians of the famous Mae West Lips sofa by Dalí) and West Dean in Sussex, the former home of James.
Claudia says: "Edward James is more well-known as an art collector and patron to surrealists Dalí and Magritte than as a writer. He was the model for Magritte's Not to be Reproduced and The Pleasure Principle, and collaborated with Dalí to produce The Lobster Telephone and Mae West's Lips, which are all famous surrealist art works.
"However, further reading of Edward James's poetry reveals that, while much of it has content that is surreal, it tends to be presented in traditional ways. One might assume that form would follow content, but as we see in the case of Edward James, this is not always the case. What I hope to explore through the works of Edward James, in comparison to other surrealist works, is the disparity between content and form in his work, with a view to ascertaining the significance of Edward James as a surreal poet.
"I read about the JRA scheme and it sounded fascinating so I decided to apply. The opportunity to gain experience working in a research-intensive atmosphere and building on my academic portfolio was something not to be missed. To also have it funded was the icing on the cake.
"Finding the sources for an unknown figure like Edward James has proved a great challenge but I have enjoyed it. I attended a JRA meet up earlier in the summer, where I heard that one of the psychology JRAs from a few years ago is now leader in her field, as a result of her JRA research. I really do recommend this opportunity to everyone who has an ambition to become an academic.
"Working as a JRA teaches you how to work independently-- a valuable lesson for anyone who wants to work in academia as it will help you with experiencing how research works, step by step; right from conceiving a proposal to researching it to presenting it.
---
Notes for Editors
University of Sussex Press office contacts: Maggie Clune and Jacqui Bealing. Tel: 01273 678 888. Email: press@sussex.ac.uk
View press releases online at: http://www.sussex.ac.uk/newsandevents/