School of Business, Management and Economics in the media
Public-engagement Sussex Impact Award for the UK Trade Policy Observatory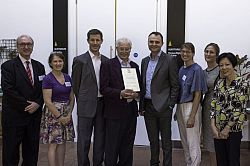 The UK Trade Policy Observatory team received a Sussex impact award for public engagement in recognition of their role explaining trade policy to key influencers.
The UK Trade Policy Observatory (UKTPO) led by L. Alan Winters is interdisciplinary, including scholars from economics, business and management, law and international relations, and has quickly become an influential player in the Brexit debate.
The UKTPO has a comprehensive public-engagement programme. The impact award acknowledged one of its distinctive features: facilitating the engagement of young scholars such as Drs Borchert and Lydgate with a broad spectrum of stakeholders beyond academia, to disseminate their research, influence the debate and shape policy.
For example, based on his considerable research on services trade, Dr Borchert acted as Specialist Adviser for the House of Lords, European Union Committee inquiry "Brexit: Future UK and EU trade in services" (October 2016 to March 2017). Dr Lydgate has engaged extensively across policy, industry and civil society, presenting her research on Brexit, the WTO and environmental standards at, inter alia, the Conservative Party Conference, Confederation of British Industry, Freight Transport Association, and the Green Alliance. Her engagement with the Green Party led Caroline Lucas, MP, to address some of the issues she raised in Parliament.
In March, Drs Borchert and Lydgate conducted business vriefings on Brexit in Beijing and Shanghai on behalf of Sussex/UKTPO, and held discussions on trade opportunities between China and the UK with officials from the UK Embassy, British Chambers of Commerce and British Council in China. Their visit was covered by 12 media articles, including one in China Daily.
In the UK, the UKTPO-related work of Borchert and Lydgate has been quoted by high-quality national media including the BBC, Financial Times and Reuters News – providing unprecedented reach for their research and simultaneously enhancing the reputation of Sussex and UKTPO.
The UKTPO has produced briefing papers, several reports and blogs and has hosted numerous public events – all based on research by Sussex fellows - to disseminate and inform stakeholders of the options, trade-offs and impacts of Brexit. Furthermore, alongside written submissions and expert witnesses to six parliamentary enquiries, UKTPO fellows have been involved in dozens of speaker engagements and have conducted over 70 private meetings with government. It has also delivered workshops, masterclasses and training courses for FCO and DIT.
Brexit is too politicised for actors to acknowledge sources of impartial advice, but several early UKTPO proposals later emerged as government policy – e.g. policy towards the WTO (announced January), the need for a transitional period (March) and that restricting EU migration would entail leaving the Single Market (January). This is plausible circumstantial evidence that UKTPO's engagement has significant impact on British policy-making.
Following the referendum and 2017 General Election, the UK needs to define its own international trade policy. Since trade policy touches almost every aspect of life - from consumption to jobs to investment - it is imperative that all stakeholders are better informed about the choices that Brexit poses. The trade-offs involved are complex, and making them transparent requires deep expertise in the area. Hence, the public, policy makers and legislators all benefit from the objective advice and analyses that UKTPO offers.
---