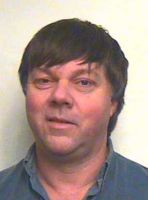 Mr
David Rudling
Biography
DAVID R RUDLING, B.Sc., M.A., F.S.A., M.I.F.A.
Educational and Professional Background:
As an undergraduate (1974-1977) I studied Anthropology at University College London, concentrating upon material culture studies and aspects of archaeology. I then (1977-1978) undertook a Masters degree in Roman Archaeology at the Institute of Archaeology (London), which is now part of UCL. Subsequently I worked for the UCL Field Archaeology Unit, initially as a casual excavation site assistant, and later from January 1979 as core staff: firstly as an Assistant Field Officer, then as a Field Officer, then as Deputy Director, and finally (from October 1991) as Director of the Unit - a post that I then held until the end of December 2004. During the period 1991 to 2004 my employment by the Unit included sub-contracted work to the Centre for Continuing Education of the University of Sussex. This work was to establish and convene a programme of part-time archaeology courses, including Certificates in Archaeology and Practical Archaeology and a Diploma in Archaeology. From 1999 to 2005 I also worked part-time as a Visiting Fellow at the International Study Centre at Herstmonceux Castle, Sussex, which is part of Queen's University, Canada. In January 2005 I joined the Centre for Continuing Education as a full-time Lecturer in Archaeology, and in October 2006 I was promoted to a Senior Lecturer. From 2007 to 2010 I was Convenor of the MA in Field Archaeology. I am a Fellow of the Society of Antiquaries and a Member of the Institute for Archaeologists.
Role
Positions currently held:
Senior Lecturer in Archaeology
Co-convenor of the BA in Archaeology and Landscape
Convenor of the Programme in Practical Archaeology
Convenor of the Programme in Buildings Archaeology
Convenor of archaeology short-courses
DPhil supervisor
Co-director of the Barcombe Roman Villa Project
My main areas of research interest include: romanisation in Sussex during the Late Iron Age and Roman periods, Roman rural settlements and land-use, religion and ritual in Roman Britain, multi-period landscape archaeology, and ancient and medieval numismatics. Most of my fieldwork and research has been undertaken in Sussex and South-East England, but I have also been involved in field projects worldwide including other parts of England, France, Italy, Barbados, St Lucia, and Hong Kong.
During the last 20 years my main research work has involved studying the processes of romanisation in Sussex. Starting before the 'Conquest' of AD 43, these processes developed quickly thereafter, as evidenced by the early phases of occupation at Chichester and Fishbourne, a number of large, sumptuous rural villas (such as Borough Farm Pulborough, Southwick and Eastbourne) and a major expansion of the iron industry. My own excavations at Beddingham and Barcombe have revealed the first evidence from Sussex for the transition from indigenous 'Iron Age type' timber roundhouse to Roman style rectangular buildings with masonry foundations. Involvement in the important research project at Fishbourne is also of great interest, with the site yielding significant evidence for a major phase of pre-Conquest occupation - indigenous and/or Roman. In addition, excavations at Bignor Roman Villa have helped to better document the previously poorly understood earlier phases of development at a villa which by the fourth century had become one of the 'grand houses' of Roman Britain.
Current projects include the excavation of a Romano-British villa complex at Barcombe, near Lewes, East Sussex; post-excavation analysis of excavations at the Bignor and Beddingham Roman villas (West and East Sussex respectively); and the identification and interpretation of Iron Age, Roman and medieval coins found in Sussex.
My teaching roles at the University of Sussex include:
Teaching archaeology at undergraduate level
Archaeology DPhil supervisions
Student Consultation
Student consultation times by appointment only