High-speed fluorescence lifetime imaging with CMOS SPAD arrays
Despite the fact that fluorescence lifetime imaging microscopy (FLIM) technology has matured in recent years, typical confocal FLIM imaging is still slow. For a laboratory confocal FLIM setup, pulsed lasers (either Ti-Sapphire laser for mutiphoton excitation or pulsed laser diodes for direct excitation) have to be coupled into the microscope and typically need to be scanned across the sample with a photomultiplier tube (PMT) coupled to a time-correlated single-photon counting card. Often, the fluorescence lifetime is not displayed immediately but only extracted from the recorded fluorescence decay histograms by a separate piece of software. Although the imaging is accurate with a high resolution, it is limited to image stationary objects. Clinical and commercial applications, on the other hand, increasingly demand compact, high-speed, and portable system-on-chip FLIM solutions. Thanks to the progress of semiconductor technology it is now possible to achieve high time resolution, compactness, low cost, and high-speed with parallelism by exploiting low dark count CMOS SPAD arrays to replace PMTs. Figures 1 (a) and (b) below show a laboratory FLIM setup and SPAD-FLIM system-on-chip respectively. High-speed SPAD-based FLIM cameras allow us to monitor protein-protein interactions in real-time and facilitate our understanding of proteomics.
Fig. 1 below. (a) Laboratory FLIM system. (b) SPAD-based FLIM system-on-chip.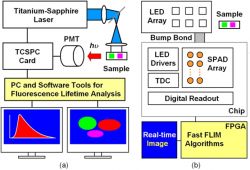 Click to enlarge.
For fast imaging, a remaining challenge is that the excessive computational demands of available iterative-based lifetime analysis software render real-time imaging impossible. In many applications such as microfluidic mixing, clinical applications, and exploratory biological experiments, however, it is desirable to monitor the instantaneous bio-chemical interactions to provide quick feedback to corresponding manipulations. We have proposed several on-FPGA high-speed FLIM algorithms suitable for the SPAD arrays. Figures 2 and 3 below show some FLIM images.
Fig. 2 below. Diagram of SPAD-FLIM systems.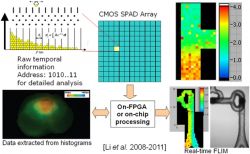 Click to enlarge.
Fig. 3 below. Five consecutive frames of lifetime images and histograms (update rate > 100Hz) show two fluorescent beads (lifetime = 5.0ns) in Rhodamine 6G (lifetime = 3.8ns)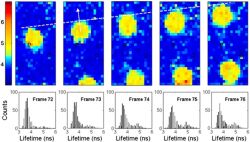 Click to enlarge.
References:
Li,D., Arlt, J., Tynall, D., Walker, R., Richardson, J., Stoppa, D., Charbon, E. & Henderson, R. K. (2011). Video-rate fluorescence lifetime imaging camera with CMOS single-photon avalanche diode arrays and high-speed imaging algorithm", Journal of Biomedical Optics 16, 096012. (http://dx.doi.org/10.1117/1.3625288)
Li, D., Arlt, J., Richardson, J., Walker, R., Buts, A., Stoppa, D., Charbon, E., & Henderson, R. (2010). Real-time fluorescence lifetime imaging system with a 32 × 32 0.13μm CMOS low dark-count single-photon avalanche diode array. Optics Express, 18(10), 10257-10269. (http://www.opticsinfobase.org/abstract.cfm?uri=oe-18-10-10257)
Li, D., Bonnist, E., Renshaw, D., & Henderson, R. (2008). On-chip, time-correlated, fluorescence lifetime extraction algorithms and error analysis. Journal of the Optical Society of America A: Optics and Image Science, and Vision, 25(5), 1190-1198. (http://www.opticsinfobase.org/abstract.cfm?uri=josaa-25-5-1190)