How do you behave in a crowd?
Thank you to everyone who took part in this study which examines if and how behaviours spread between people.
We think behaviours that are sometimes called 'contagious', such as yawning or scratching, only spread when people feel that they are part of the same social group. This could be anything from the same class in school to supporters of the same football team. In this case, it was groups designated with different coloured dots.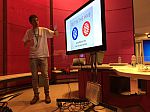 By taking part in this study you are helping us to better understand when, what, and how behaviours spread between people. This will allow us to explain how people act together in crowds, whether they're helping each other, celebrating, or even rioting.
We'd like to share what we find out with you. If you'd like to hear about the results of this study, please give your e-mail address to one of the researchers: