On Sunday August 7th 2011, the borough of Enfield in North London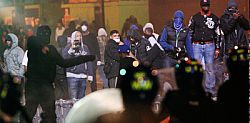 became the focus of national and global media as hundreds of people engaged in sporadic clashes with police, property damage and looting. These incidents were among the first signs that the serious unrest which took place the previous night on the streets of Tottenham and nearby Wood Green in the borough of Haringey was beginning to spread. Using detailed case studies of the events in Enfield, informed by numerous participant interview accounts and other materials, this project analyses the content of these incidents and traces the behaviours of the protagonists, both crowds and police. Although characterised in the media as essentially neo-liberal 'commodity riots' carried out by a convergence of 'career criminals', the rich descriptions in this case study demonstrates a greater complexity in the motivations and actions of the participants. The conscious targeting of areas in the wake of the Tottenham 'riot', prevalence of 'expressive' rather than acquisitive crimes, and violence directed against the police together provide evidence of more than just an individualistic 'looting spree'. Instead of mere 'feral greed', the content and dynamics of these contemporaneous events suggest contestation with the state and class antagonism as drivers for the spread of disorder.
The full triangulated account for Enfield can be found here.