Date: Saturday 25 November 2017
Times: 10.00–16.00: symposium. 17.00 onwards: 50th anniversary celebration.
Venue: Attenborough Centre for the Creative Arts, University of Sussex campus
This symposium investigated the history of Art History over the past 50 years, taking as its cue the founding of many leading UK Art History departments in the new wave of university building in the 1960s, including Sussex. This was part of the seismic shift in post-war higher education that saw the building of new universities: the so-called 'plateglass' or 'Shakespeare' universities, the first of which was Sussex.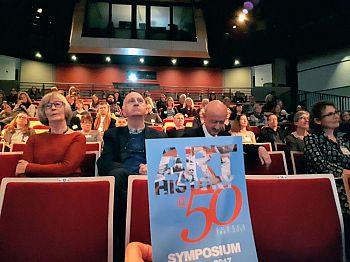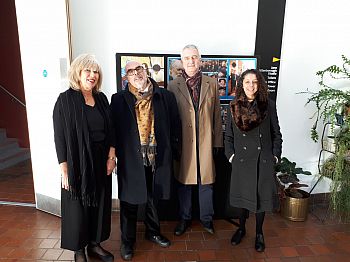 Six of the seven major institutions newly founded between 1961 and 1965 have leading Art History departments, mostly dating from the 1960s and 70s; and other departments of Art History were set up around the same time at longer established institutions, such as UCL. The consequent democratization of the teaching of Art History in 1960s Britain had enormous impact both on the politics of the discipline and also on its place within an overall higher education 'framework'. Using the occasion of this 50th anniversary decade, this symposium revisited that 'new vision' for Art History, by investigating and reflecting on the history of Art History over the past 50 years, both at Sussex and beyond.
This cluster of anniversaries also provides a moment for reflection on the place of Art History in Britain in the 21st century. The symposium aimed to provide a platform to pick up on this public awareness, to reflect on the current and historical importance of the discipline to wider intellectual debates; beyond academia, it also aims to understand its wider public value and perception. Through examining the history of the discipline and its pedagogy, this project, bringing together leading professionals from across the educational, museum and cultural sectors, will review the map of British Art History, in order better to understand its status in the 21st century and consider potential future directions.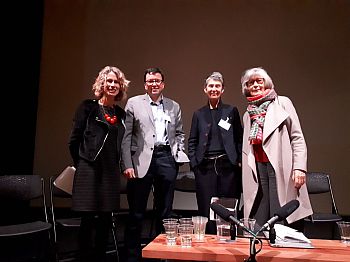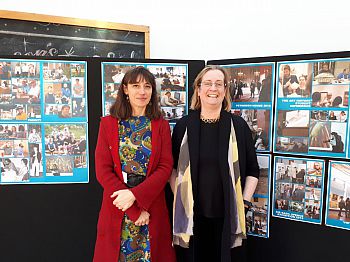 Schedule
10.30 – 10.45: Welcome and introduction
Session 1: 50 Years of Art History at Sussex
10.45 – 11.15: Tim Barringer, Dangerous Liaisons: British Art and Critical Theory
11.15 – 11.45: Marcia Pointon, Disciplinary Dramas and Contextual Clashes
11.45 – 12.15: Briony Fer, Modern European Mind
12.15 – 12.45: Discussion
12.45 – 14.00: Lunch
Session 2: Disciplinary and Cross-Disciplinary Frameworks
14.00 – 14.30: Robin Cormack, Ancient and Byzantine art history: fringes or mainstream?
14.30 – 15.00: Jules Lubbock, The Visual
15.00 – 15.30: Carol Tulloch, The Way I See It
15.30 – 16.30: Round-table discussion with Evelyn Welch and Craig Clunas
Speakers and abstracts
Tim Barringer: Dangerous Liaisons: British Art and Critical Theory
This talk will reflect on the role of Sussex in changing the agenda for the study of British, and especially Victorian, art. Beginning with Asa Briggs and the emergence of Victorian Studies, it will examine the role of Quentin Bell and will focus on the mid-1980s to the mid-1990s. It was at this period that, with Marcia Pointon, David Mellor, Maurice Howard, Nigel Llewellyn and others in the field, the Department's approach to British art intersected creatively with contemporary currents in critical theory in the university and beyond. In the interdisciplinary framework made possible by Schools – with British art pre-Brexit deftly poised between ENGAM and EURO – the ferment of critical thinking from literature, anthropology, philosophy, comparative literature and other fields was brought to bear directly on British art, from medieval tombs and Tudor interiors to Georgian portraits, Victorian engravings and the multifarious provender of British modernism. Sussex continues to be a leading space for critically reflexive interrogation of British art and culture, a practice more necessary now than ever.
Robin Cormack: Ancient and Byzantine art history: fringes or mainstream?
When the Courtauld opened in 1932, the coverage of the history of art was world art. But by the 1960s, its focus had become "European art". Also forgotten was the key question of all Viennese art history at the beginning of the 20th century: How and why did Classical art get transformed into Christian art in Late Antiquity? This presentation asks what happened next to Ancient and Byzantine art history.
Briony Fer: Modern European Mind
'MEM' - or Modern European Mind - was a pivotal course for those of us who were students in the European School at Sussex in the late 1970s. Combined with the important changes that were already occurring within art history at that time, Sussex offered us an explosive cocktail of ideas for rethinking how art relates to the most ambitious thinking within European philosophy. Now that we find ourselves mired in Brexit, I look again at how art history has changed over the last 50 years, paying particular attention to the role of contemporary art and ideas in shaping how we think about art's histories.
Jules Lubbock: The Visual
There's a powerful and longstanding prejudice against the visual and in favour of the verbal within Western culture that goes back around two and a half thousand years, if not earlier, to the Second Commandment and to Plato's Republic. In recent decades the academic discipline of art history has been prone to a succession of fashions - iconography, social history, archival studies, theory, cultural studies, gender studies - which have tended to divert attention from studying the visual character of works of art to focusing upon issues that are more readily expressed in words. Obviously we can't easily avoid using words to discuss the visual arts but perhaps the current balance in favour of the verbal needs to be redressed.
Marcia Pointon: Disciplinary Dramas and Contextual Clashes
My presentation will explore the making and shaping of art-historical practice at Sussex 1975-1992 in so far as I now perceive it. The interdependent demands of teaching and research among a small group of colleagues in an intellectual environment committed (at least rhetorically) to the notion of interdisciplinary/cross disciplinary fertilisation played out in those years against the ferment of a discipline in flux. What did we, what have we, made of it all?
Carol Tulloch: The Way I See It
Towards the end of his life John Berger related that 'the removal of cataracts from the eyes is comparable with the removal of a particular form of forgetfulness. Your eyes begin to remember first times, and it is in this sense that what they experience, after the intervention, is a kind of visual renaissance. The unstartling heterogeneousness of the existence has marvellously returned. And the two eyes, portcullises now removed, again and again register surprise'. Inspired by Berger's thoughts, I consider a range of projects where a multi-layered approach of different disciplines and concepts that include art and design history, material culture, style narratives, personal experience and difference illustrate how one can enable new directions—to see anew. For example how can one see the work of established artists such as Yinka Shonibare differently, or what fresh direction can be discussed about reused and repurposed textiles in a curatorial context? Just two examples I would like to discuss.