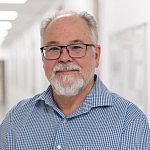 Dr
Barry Garraway
Role
Head of the Atomic, Molecular and Optical physics group
Director of Student Experience (MPS)
Senior tutor in the Dept. of Physics & Astronomy
I am a theorist and my research is into the quantum mechanical interaction of light and matter. Under this general theme my work can be divided into three fields:
Theoretical Quantum Optics:

Includes decoherence, cavity QED, adiabatic processes, and QIP (quantum information processing).
Matter waves and Bose-Einstein condensation (BEC):

Currently with special interest on how to manipulate cold matter with rf radiation.
Theory of molecular control, femtosecond processes, and wave packet dynamics:

Using light to control molecular processes.
A list of recent publications can be found on my publications page.
A theory PhD studentship is available for start in 2013. This project relates to the quantum physics of trapped electrons and aims to contribute to the building of a quantum information processor, to the understanding of entanglement in quantum physics, and to quantum enhanced metrology. For UK students fees and a living allowance are covered by the studentship, but otherwise there are eligibility restrictions (see http://www.epsrc.ac.uk/funding/students/Page/eligibility.aspx). Applications should be made early in 2013 and must use the on-line Sussex application system at http://www.sussex.ac.uk/study/pg/applying/2012entry. More information at http://www.sussex.ac.uk/study/funding/pgr2012/view/161
I currently teach the M-level course Quantum optics and quantum information and the M-level course Skills in Physics.
Past teaching includes Physical optics, Electricity & magnetism, Electromagnetism, Theoretical physics, Modern physics, computer skills, and the History of European Science.
Student Consultation
Monday 1-2 and whenever I am in the office
Sinuco-León, G and Garraway, B M (2012) Radio-frequency dressed atoms beyond the linear Zeeman effect. New Journal of Physics, 14. p. 123008. ISSN 1367-2630
Lazarou, C., Luoma, K, Maniscalco, S, Piilo, J and Garraway, B M (2012) Entanglement trapping in a nonstationary structured reservoir. Physical Review A, 86 (1). 012331-012340. ISSN 1050-2947