Student experience and opportunities: Funding initiatives to enrich our students' experience and wellbeing, and enhance their employability
Sussex has always attracted special students who are drawn here by its first-class, interdisciplinary learning and world-impacting research. In addition, we are proud to be able to provide a richly rewarding and distinctive experience for all who come to Sussex.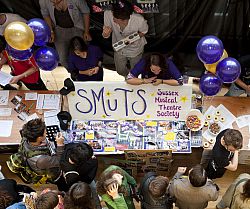 We know that some of the best experiences can take place outside the classroom, this is why the Sussex Fund works closely with the Students' Union and student groups to ensure a broad range of initiatives are funded philanthropically. Student-led clubs and societies contribute greatly to students' experience of Sussex, supporting their academic studies and enhancing their social lives and general wellbeing. The Sussex Fund has underpinned 20 student-led initiatives, including promoting mental health awareness and hosting international conferences, over the past two years.
The Sussex Fund is committed to providing our students with every opportunity to go above and beyond, and to reach their potential – professionally, academically and socially – and where students do come across barriers to achieving this that are outside their control, the Sussex Fund is there to support them and help them get back on track.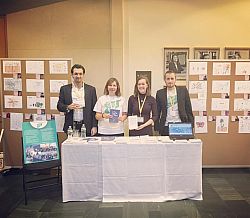 Molly, an English Literature BA student, was recently presented with a life-changing opportunity. She was invited to travel to Harvard to attend their Arab Conference where her writing was to be showcased, forming part of an anthology about the hopes, dreams and experiences of children from the Al Abrar refugee camp in Lebanon. However, this golden opportunity was going to come at a significant cost:
"As a low-income student, I often struggle with education and travel costs, and the Harvard trip would have taken up a lot of my savings for a Master's degree."
Thanks to a Sussex Fund grant, Molly was able to attend the conference without damaging her prospects of further study. She promoted her writing, attended talks, and even exchanged contact details with the first Arab female to win the Nobel Peace Prize, Tawakkol Karman. She said:
"The conference at Harvard taught me a huge amount about Syria, conflict resolution, child refugee psychology, and much more. I can now use this knowledge in my degree and in future charitable work and giving. The experience was truly invaluable, and I cannot thank our alumni enough for helping me to attend."
Please help future generations of Sussex students have the same opportunities and as rich and rewarding an experience as you did by making a gift to the Sussex Fund via our secure giving page.

FAQs
How is the money raised?

Gifts are made to the Sussex Fund by our alumni and friends of the University of Sussex whom we contact by email, letter and telephone. Our telephone appeal is especially popular as it gives people an opportunity to hear from current students and to pass on their memories of Sussex.

Does the University qualify for Gift Aid?

Yes, as an exempt charity the University can claim back 25p for every pound you give, as long as you are a UK taxpayer. You can find more information about Gift Aid here.

Will my gift be acknowledged?

All supporters will be thanked in our Roll of Donors and will receive a regular e-newsletter, unless we are instructed otherwise.

Are one-off gifts more useful, or does the University prefer regular donations?

We are grateful for all support that we receive, although regular donations do allow us to plan for the future more effectively, safe in the knowledge that we have a reliable source of income that we can depend on. This allows the Sussex Fund to be more ambitious with the initiatives that we support, which in turn benefits our students.