Scholarships: Promoting excellence at Sussex
The Sussex Fund supports undergraduate and postgraduate scholarships, rewarding merit and giving outstanding students the opportunity to excel, regardless of their background or resources.
"I would like to express my most humble gratitude. What this award means to me is really beyond material support. This is recognition. I have taken an unconventional pathway to be where I am today, and this award proves that the past does not limit our potential. I hope that one day I will make a positive impact on others just like you did. Thank you."
Susan, Sussex Fund Scholar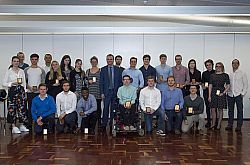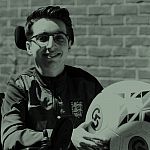 The Sussex Fund is also instrumental in supporting the Sports Scholarship Scheme at Sussex, enabling our students to combine their studies with competing in their chosen sports.
One such sports scholar is Matt Francis who is captain of Brighton & Hove Albion's Powerchair team, who will play in the Fifa World Cup this summer after being called up to the England squad. For many students, keeping up with studies and an intensive training schedule can be a challenge, however, Sussex's Sports Scholarships give students like Matt the support to manage the demands of both. Matt said:
"When I came to university I was worried that I would struggle to find time to train and also manage the costs of competing in the national league. Being a Sports Scholar has given me the support to manage both my studies and training programme."
"Being part of the scheme has also meant that I have been given access to the facilities at the University, allowing me to train much more frequently. The funding from the scheme has enabled me to continue to compete at the highest level in the MDUK WFA National Premiership."
You can support our most outstanding students by making a gift to the Sussex Fund via our secure giving page.

"I would like to extend my gratitude to the University's supporters. To be on the receiving end of a scholarship from the Sussex Fund was a complete shock to me! I can only repeat how thankful I am for your generosity, and I want to assure you that the award will help me to excel in my degree."
Matthew, Sussex Fund Scholar
FAQs
How is the money raised?

Gifts are made to the Sussex Fund by our alumni and friends of the University of Sussex whom we contact by email, letter and telephone. Our telephone appeal is especially popular as it gives people an opportunity to hear from current students and to pass on their memories of Sussex.

Does the University qualify for Gift Aid?

Yes, as an exempt charity the University can claim back 25p for every pound you give, as long as you are a UK taxpayer. You can find more information about Gift Aid here.

Will my gift be acknowledged?

All supporters will be thanked in our Roll of Donors and will receive a regular e-newsletter, unless we are instructed otherwise.

Are one-off gifts more useful, or does the University prefer regular donations?

We are grateful for all support that we receive, although regular donations do allow us to plan for the future more effectively, safe in the knowledge that we have a reliable source of income that we can depend on. This allows the Sussex Fund to be more ambitious with the initiatives that we support, which in turn benefits our students.