Please support young Syrian refugees with their education
We have all been heartbroken by moving images of thousands of refugees putting their lives at risk every day to escape war and persecution in Syria.

Many refugee families will be welcomed to the UK in the coming years, and they will be facing the daunting task of rebuilding their lives in a new country. The education of many young Syrians has been seriously disrupted and for those whose English is not very strong, it will be all the more challenging to resume their studies.

This is why, true to its ethos and core values, the University of Sussex has launched 50 scholarships that will enable newly arrived Syrian students to take an intensive English language course in preparation for a foundation degree. Each scholarship is worth up to £10,000 and will cover tuition fees and a contribution towards their living costs.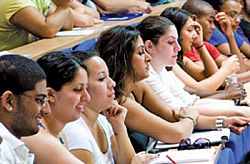 The University has a tradition of supporting students from countries in crisis around the world, including Libya, Egypt, Yemen, South Sudan, Ukraine, Iraq and most recently Syria. We are now appealing to the generosity of the entire Sussex community – its alumni, staff and students – to give whatever you can to help us establish a hardship fund that will supplement these new University-funded scholarships.

Your help will provide a lifeline to those Syrian refugees coming to study at Sussex. Please make your gift today to help rebuild the futures of young Syrian refugees coming to the UK this year.