Catherine Mayer (EURO 1978) is an award-winning author and journalist. She began her writing career at The Economist, subsequently joining a number of magazines in increasingly senior editorial positions. She worked at TIME magazine from 2004 until 2015, and was made Editor at Large in 2012. She published Charles: The Heart of a King, a biography of His Royal Highness The Prince of Wales, in 2015, and her third book, an investigation into the effects of gender inequality, is released to coincide with International Women's Day 2017.
What interests you about the Royal Family as an institution?
A lot of the coverage here really treats the Royals as a celebrity show but it completely misses the much bigger institution that's there. Prince Charles is the most interesting representative of this very strange planet. I think the reason I got so interested by the Royals is it's a really strange institution with really strange people in it — not necessarily 'bad' strange — I like a lot of them but that's why I use the phrase 'planet'. There is an awful lot of comedy in court life.
Has your perception of the Royal Family changed over time?
I was working as a journalist on the German news weekly Focus when Diana died and then the Queen Mother died and it was just a huge story. I came to it with quite a lot of hostility, thinking that it was an irrelevance and, I think, being quite 'Sussex' about it, allowing myself to believe it was just a tourist attraction at best and that it was this strange anachronism that British people clung to that; as a revolting colonial, I had no connection to it whatsoever. I think at first I covered it very much in a grudging way but also with a deep lack of understanding.
What sets Charles apart from the rest of his family?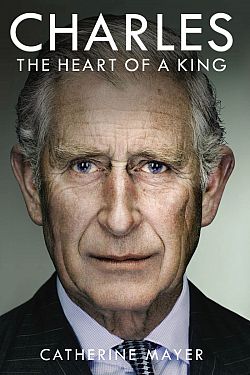 His impulse to constantly try and join everybody on 'planet Earth' or at least to understand 'planet Earth'. It's much stronger in him than it is in others. That need to connect is not there in some of the older Royals and some of the siblings. One of the ironies of the Diana era is that she was potentially his link to 'planet Earth' but, in fact, of course, it became the opposite. People are really interested in Charles. He's polarising. Lots of people don't like him but lots of people, when they found out I was writing the book, said, "Actually, we've always really liked him". Even people who don't like the monarchy, because of his environmentalism. There's a crossover of people who don't like the monarchy but like him.
How did your new book come about?
When I joined TIME magazine I immediately launched in to coverage of the Royal Family, both as a writer but also initially as an editor, doing liaison on the big cover story we did for the Queen's 80th birthday. I spent a lot of time behind the scenes observing her and talking to people, always asking for a sit down with Prince Charles and never getting it. Finally, in 2013, he got interested enough in the idea to meet me. I spent about six months trailing around after him. Eventually, I went up to Birkhall on the Balmoral estate and sat down and recorded a conversation with him and wrote a cover story for TIME. Clarence House did not then stand in my way when I wanted to continue researching. After that I did another six months of research but I spoke to many more of his friends and I saw him again when I went to Canada on that trip that he accidently tangled with Putin.
Where do you stand on the notion of monarchy more generally?
Who in their right mind would be a monarchist on paper? On paper it makes absolutely no sense and it's only when you start looking at the institution and meeting the people and also trying to figure out what would happen when you take it away that you come round to it making any kind of sense. Even then, it's a very weird…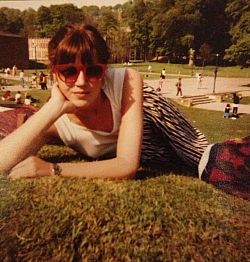 Why did you choose Sussex?
I wanted to be physically at a distance from home and that wasn't because I had an unhappy home life but it was a sense of being independent. in the days when I was there, we didn't have mobile phones or email or anything like that so when you were gone, you were really gone. The sense of separation was very real and you had to make your own way at that point. I also loved the idea of those courses with the mixed disciplines and the different subject areas, all of which appealed to me. Not having to choose but to see a synthesis between subjects, that was hugely seductive to me. Also, my first visit to campus. What's not to like about that campus? It's beautiful. there's something so delirious about being able to lose yourself in student life in the way that you can at Sussex.
Are you still in touch with any old university friends?
I'm still in touch with lots of people from Sussex. I have several very close friends from back then but Nicky — she was called Nicola Ebenau (SOC 1978) back then — and I were I think the two youngest girls in the year. We met in our first week at Sussex and we still see each other at least once a week because we do Pilates together. I finished the first draft of the Prince Charles book at her house in France as she was finishing her PhD. I actually wrote some of my last book ( Amortality ) at her house as well.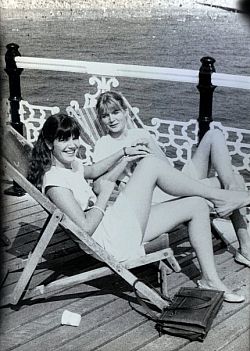 Somebody else who died but was incredibly important in my life was the, at the time, famous or infamous student leader, Richard Flint (ENGAM 1977). He was a very close friend of mine for a long time; he died of ataxia. It's funny because that whole experience of campus radicalism was very formative. He was an amazing person who I still have all sorts of things to thank him for, not least a possibly slightly unlikely addiction to science fiction. He bought me an album, 'Entertainment', by a band called Gang of Four, and I am now, of course, married to Andy Gill of Gang of Four. Richard bought me the vinyl and it was a second hand vinyl and quite scratched but I still think I have it somewhere.
Ben Bradshaw MP (EURO 1978) and I were also in the same year. Because of what we do, our paths cross sometimes. He did the four-year course as well and he went to Germany in his year abroad. We saw each other a lot back then.
How has the time you spent at Sussex influenced your outlook?
I came to Sussex with certain things already established in terms of who I was. I come from a liberal American academic background so some of that stuff was already there. Sussex had a kind of liberalism that was attractive to somebody from my background. But although it very much continued that interest it also really broadened my horizons in terms of the subject matter. I've never stopped using both the language skills I picked up but also the cultural understanding. Sussex continues to influence the way I think and reinforces my sense of amusement and wonder when my career takes me into the heart of the establishment—the belly of the beast, as Richard Flint would have seen it. I don't believe in heaven or the afterlife but if there were such a thing and if Richard had somehow managed to get into heaven in spite of also never having believed in it, he would have been looking down on me in some horror or maybe just shaking with laughter as I sat at Margaret Thatcher's funeral or, indeed throughout this whole book project.
Fact file
Born: 23 January 1961 in Appleton, Wisconsin, USA
Education: University of Sussex: BA English in the School of European Studies
Awards and recognition: Winner of the FPA 2010 Story of the Year for her piece on David Cameron's first official trip to the US; Ranked 29th in Total Politics' 2011 Top 100 Political Journalists; Shortlisted for the 2011 Orwell prize for Political Journalism; Shortlisted for Political Commentator of the Year in the 2011 Comment Awards; Shortlisted for the FPA 2014 Story of the Year award for her TIME magazine cover story on Prince Charles.
Favourite book: Idoru by William Gibson
Favourite album: What Happens Next by Gang of Four
Favourite film: Cabaret
Motto: 'Always accept a dare'
Hero or Heroine: Angela Merkel. She's not really a hero but, by god, is she wonderful to watch. I don't necessarily endorse her politics but she is utterly impressive in public life.
Follow Catherine on Twitter, @catherine_mayer. Her book, Charles: The Heart of a King is out now.

Attack of the 50ft. Women: How Gender Equality Can Save The World! published 8 March 2017

Your new book investigates the global reality of gender inequality. How did it come about?
In 2015, after I co-founded the Women's Equality Party with Sandi Toksvig, I started looking for a book that could explain why women everywhere were still at best second-class citizens. I also wanted a book that would draw together all the evidence around the damage caused by gender inequality and the benefits that would flow from dismantling the barriers to women. I couldn't find the book I was looking for so I wrote it:.Attack of the 50 Ft Women: How Gender Equality Can Save the World!
The book doesn't only examine the present but takes readers on a tour of the gender-equal future I call Equalia. I discovered when I was canvassing for the Women's Equality Party that one unsuspected barrier to gender equality was that people couldn't imagine what it would be like. I decided to give them some assistance!
Find out more and order the book here.
By logging into
SussexSphere
or
registering now
if you haven't received your username and password, you can enjoy the following benefits:
Search for classmates by year and by subject
Quick online bookings for events
Upload a photo and personalise your profile
Update your details instantly
Available only to alumni and friends of Sussex
Free access to JSTOR's library of online journals, subscribed to by the University
Sign up to our monthly e-newsletter