Teaching, learning and the student experience
Increasing the number of students getting an outstanding Sussex experience. We will do this by:
Securing a top 10 position for overall satisfaction in the National Student Survey (NSS) and being in the top 25 for all NSS themes.
Growing undergraduate student numbers by 50 per cent in targeted academic areas.
Growing our postgraduate student numbers to ensure that the proportion of postgraduate students is at least 20 per cent.
Ensuring all undergraduate students have the opportunity to broaden their studies by engaging with some combination of study abroad, placement, a minor pathway and volunteering.
Being consistently in the top 20 of UK universities in both UK and world rankings.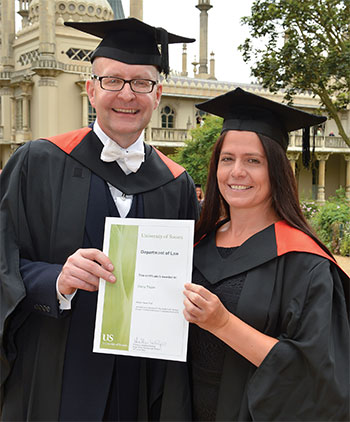 Law graduate Elena Taylor with Marcus Hayes of Mason Hayes in summer 2013. Through the Mason Hayes Charitable Trust Work Experience Scheme, Elena undertook a work experience placement as an in-house lawyer/ company secretary at VPS UK, the vacant property specialists, during her degree. Marcus Hayes, a former Sussex student, established the scheme and Charitable Trust, which has also funded several legal scholarships and an annual graduate prize.
1.1
We will provide all students with high-quality inspirational teaching that is research-led and delivered in an excellent learning environment. We will continue to invest in the appointment and development of high-quality, internationally recognised academic staff, and provide a resource-rich, collaborative community working to shared pedagogic principles and delivering research-informed teaching.
1.2
Through inspirational teaching and learning and the active engagement of students as co-creators of knowledge, we will create an educational environment that attracts the best staff and nurtures our students to make a significant impact in their chosen field. The voice of our students will be championed through working in partnership with the Students' Union and through the principles we will develop in our student charter.
1.3
We will enhance the quality of the Sussex student experience so that we consistently secure a top 10 position for overall satisfaction in the National Student Survey (NSS) and a top 25 position in each of the six NSS themes from 2015.
1.4
Our ambition is for substantial growth in student numbers of around 50 per cent by 2018, achieved by offering a distinctive, accessible, inclusive course portfolio, ensuring a critical mass of students across the discipline range in order to assure the quality of the student experience. In 2018, 25 per cent of our undergraduates will be First-Generation Scholars, and we will maintain our current international mix of having one in four students from outside the UK.
1.5
We will grow in areas of high student demand and sustain core disciplines essential to a comprehensive university. Our portfolio of courses will continue to develop based on principles of interdisciplinarity, research-led teaching in an international context, inclusiveness, diversity and citizenship.
1.6
All students will have the opportunity to study outside their core subject area in an interdisciplinary manner, with course structures that facilitate breadth and depth of study, including through new elective pathways.
1.7
We will grow the number of taught postgraduate students, as befits a research-intensive university. The postgraduate taught portfolio will be developed to secure a vibrant postgraduate student community, representing no less that 20 per cent of the overall student body.
1.8
We will continue to renew course structures and modes of delivery, and ensure that we have effective mechanisms to establish new courses in areas of academic demand, such as the important initiative underway to introduce new biomedical degree courses, developing new academic opportunities from our existing strengths in the Life Sciences.
1.9
We will enhance the academic experience for all students and, in particular, will enhance the first year to support student transition to higher education because this year is vital for intellectual engagement and immersion in our Sussex values, building the foundations for future Sussex graduates.
1.10
We will create graduates with a passion for, and critical understanding of, the ethical dimensions of their field and a strong awareness of their civic and social responsibilities. Our graduates' knowledge and skills will create world citizens with the confidence to be entrepreneurial and effective leaders in diverse global environments.
1.11
Our courses will include substantive introductions to the philosophical and methodological bases of research, and to the ethical foundations of scholarship, which will nurture and inform future careers in business, academia, industry, social and ethical enterprise, and elsewhere.
1.12
We want to enable all students to shape their personal learning journey through participation in individual and collaborative learning that is innovative and flexible. In particular, all students will have the opportunity to individualise their learning by taking part in study abroad and/or professional placements at home or overseas. All undergraduates will engage in such opportunities by 2018.
1.13
International partnerships will include the development of dual degrees at Masters level. In this way, we will increase the number of opportunities for students to access to an international experience irrespective of their country of origin.
1.14
We will increase the number of international educational, cultural and social activities open to everyone on the Sussex campus, to help expose all our students to a globalised world and a diversity of cultures.
1.15
We will identify opportunities to develop new online and distance learning programmes, expanding the Sussex experience beyond the campus.
1.16
We will maximise the effective use of emerging techniques and technologies to enhance the learning experience, alongside teaching that embraces innovative methods and spaces.
1.17
We will enhance our mentoring scheme for students to lead the sector. One feature will be an international element, utilising our alumni networks around the world.
1.18
We will develop employability support that recognises and promotes the determination of many Sussex students to create a better world as well as a great career. Sussex will work with employers to find high quality employment opportunities for graduates, including international opportunities, and we will reach the upper quartile of universities for graduatelevel employment or further study as benchmarked to similar institutions
1.19
We will improve facilities for the sporting and cultural aspects of our student experience. SussexSport will work with the Students' Union to ensure we remain in the top 50 sporting institutions recognised by British Universities & Colleges Sport (BUCS).
1.20
The University's fees and scholarship schemes will continue to be informed by the market conditions in higher education, but Sussex will sustain its values with regard to diversity in the student intake and enabling entry irrespective of background, particularly through sector-leading provision, as established in 2012 by our First-Generation Scholarship scheme.
According to a report published by High Fliers Research in December 2012, the UK's top 100 employers expect that over a third of this year's entry-level positions will be filled by graduates who have already worked for their organisations.
Placements in industry can give students a competitive advantage in the job market, by giving students valuable career skills training. They could also lead to a permanent job afte graduation.
The School of Business, Management and Economics at Sussex has been running a placements scheme since 2012, through which students find places in companies such as Virgin Holidays and the pharmaceuticals giant Pfizer. In 2013, the second year of the scheme, 64 Sussex undergraduates were accepted onto specially tailored degrees 'with a professional placement year'. Students spend their third year in paid roles in industry, returning to campus for the final year.
Students research and apply for their own placements to ensure they will be tailored to their interests, and the University supports them by fostering links with employers and creating networking opportunities. Tutors visit students and employers during the placement to help students contextualise what they have learned.
Jess Reilly, Business and Management Studies (with a professional placement year), took part in the pilot scheme. She undertook her placement at Amadeus, a tech company that services the travel industry. She explained: 'It was fundamental to gain relevant work experience – I thought it would give me the edge when applying for jobs when I've graduated.'
Professor Ian Davidson, Head of the School of Business, Management and Economics said: 'Placements provide an opportunity for both students and employers to see if they are a good fit for permanent employment. But even if that doesn't happen, the experience gained by the student is invaluable in helping them to gain employment elsewhere.'
Victoria Swanson (pictured), who undertook a placement at Pfizer working as an Industrial Trainee (Procurement) in 2012-13, said: 'Before I began work at Pfizer, I knew little about procurement but had always been intrigued by the idea of working in operations as a buyer. I now feel this is a career path I would definitely like to pursue.'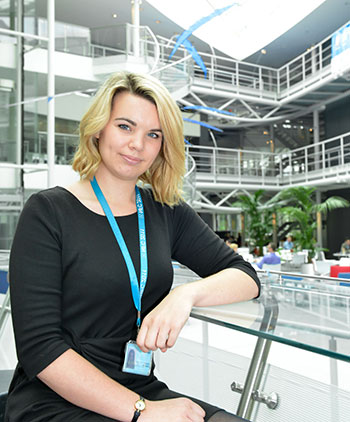 Victoria Swanson undertook a work placement at Pfizer, as part of her BSc in International Business (with a professional placement).
---
You might also be interested in: