Sustainable operating
Securing the platform for the University's sustainable future by:
Increasing total turnover by 50 per cent.
Generating overall annual institutional surpluses of 10 per cent to support planned investment.
Reducing CO2 emissions by 44 per cent by 2020.
Further improving staff engagement with the University's aims and values.
Further improving the proportion of women in senior roles.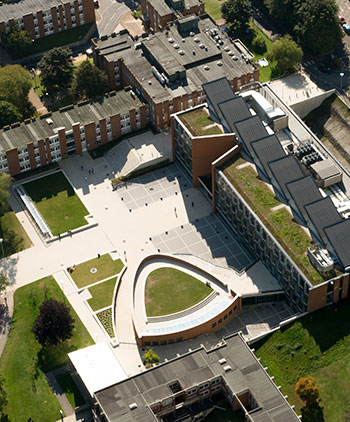 The new Jubilee building has been classified 'Excellent' by the Building Research Establishment's Environmental Assessment Method (BREEAM). Technologies used in the building include light-catchers to reduce heating and cooling, rainwater harvesting and energy efficient lighting.
Financial
1.1
We will increase turnover by over £100 million, more than 50 per cent compared to 2012-13, by growing and diversifying income sources.
1.2
We will reduce the proportion of our income derived from government, and increase income from research, contract and other sources, including philanthropy.
1.3
Through prudent planning and cost control, we will generate surpluses sufficient for planned investment in the University and its academic development. By 2018, we will achieve an annual surplus of at least 10 per cent across the institution, and at least a 4 per cent in every academic school. This growth and surpluses generated are vital for investing in the sustained, future success of the institution.
Environmental
1.4
We will continue to work towards our established target of reducing our CO2 emissions by 44 per cent by 2020, by upgrading our buildings and delivering on action plans to achieve institutional environmental targets.
1.5
Our teaching portfolio will continue to be developed in line with the demands of a global environment, ensuring that a balance is struck in terms of courses that are offered on campus, off site, in distance or blended learning or in the form of continuing professional development or executive offerings.
Staff
1.6
We will further improve staff engagement by progressively improving the rate of completion and effectiveness of the appraisal process, and by conducting regular staff-engagement surveys.
1.7
We will continue to ensure a diverse staff body benchmarked against sector averages. Within our equalities commitments, we will improve the representation of women in senior academic and management roles, building on existing work, including the Athena SWAN scheme.
1.8
We will invest in our staff development strategy to support our high standards in research, teaching and learning, and professional services, recognising successful innovators through appraisal and promotion processes.
1.9
Sussex's staff is a community based on mutual respect, and one that pursues open, constructive dialogue with all its members. We will continue to build a workplace that develops talent, values initiative, and celebrates diversity and openness. Fostering a culture of excellence, we will seek to build confidence among all employees, encouraging them to take personal and professional responsibility in their work.
1.10
We will develop existing opportunities to enjoy a rounded career: championing family-friendly policies, giving access to all staff to sport, fitness and well-being services and facilities, offering lunchtime and evening talks and the opportunities to learn languages, as well as supporting professional development.
Campus Masterplan
As we look forward to 2018 and now sit alongside the newly designated South Downs National Park, the sensitive development of the campus is even more critical than ever.
The University of Sussex created a Campus Masterplan in 2004 to provide a planning framework that would support an ambitious programme of building and regeneration for Sussex, in line with our academic mission and plans for strategic development.
For this next phase of development, the Masterplan is being fully revised and updated to ensure that the campus can accommodate our growing activity as we expand to 18,000 students and beyond.
Working in collaboration with English Heritage, Brighton & Hove City Council and other local bodies, our goal is to develop a shared agreement that ensures that our architectural legacy is not compromised.
Roger FitzGerald, of masterplanner and architect ADP, has worked with the University on the original Masterplan of 2004, and this latest version. He says: 'This new Masterplan has been designed to serve the University's new strategy for the next 30 years. While it looks to the future it also builds on the past, reinforcing Spence's key design principles which make the campus so special and unique.'
Writing about the creation of the University in 1961, founding architect, Sir Basil Spence, said: 'The whole precinct should have the "sense of a university" and should, if possible, grow out of the soil of Sussex to become a natural part of this beautiful site.' His vision of Sussex was based on a Spence Masterplan of how the campus would develop in sensitivity with the landscape, preserving the mature trees and accommodating the 3,000 students planned to be at Sussex by 1970.
The Masterplan helps us to develop the best aspects of Sir Basil Spence's original vision for the site, with interlocking courtyards and with trees and landscape still dominant. The approach recognises that our estate requires sensitive regeneration, while implementing a building programme that will continue to modernise and improve the look and feel of campus.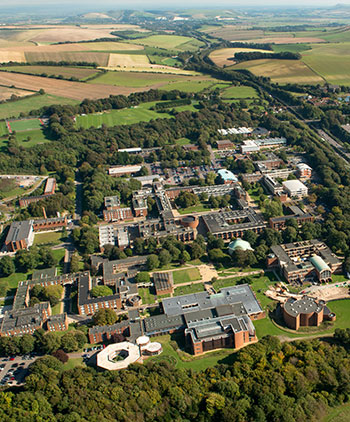 An aerial view of the campus site, facing east.
---
You might also be interested in: