Professional Services
Supporting academic excellence and the student experience with excellent value professional services delivered by high-quality people working with the best facilities and partners.
We will continue to enhance our approaches to attracting and recruiting the best staff into our professional services, and to training and developing the effectiveness of staff.
We will continue to invest in equipping our staff with high-quality fit-for-purpose facilities and systems.
We will continue to work with, and to learn from, external partners who bring specialist expertise to the benefit of staff and students.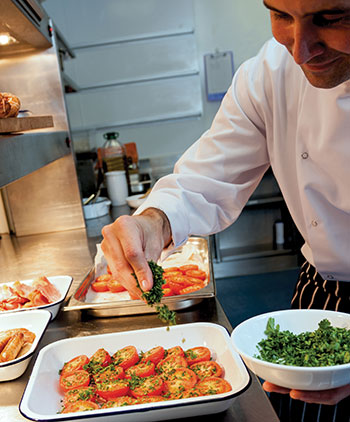 As part of the improvement of catering on campus, SussexFood outlets have been undergoing some changes in partnership with Chartwells, with brand new menus in each of the eight food outlets. Sous Chef Mark Kipling is pictured above, preparing breakfast in Eat Central's kitchen.
1.1
Effective professional services teams are a vital part of the success of our academic endeavour across research, teaching and learning. We are committed to supporting sustained growth in the academic enterprise. Quality in the recruitment and development of all staff is a high priority.
1.2
Our staff will work with the best tools: we will continue to procure and implement sector 'best-of-breed' business technology, including new human resources and student-administration systems.
1.3
We will enhance training and staff development of professional services staff supporting research and teaching, so that academic staff are able to lead and deliver their work with confidence in the support that is provided.
1.4
Continued investment will involve a major programme of relocation of central professional services, to ensure that staff are in optimal locations and working spaces.
1.5
We will continue to work effectively with, and to learn from, external partners, who complement internal skills and bring specialist expertise on to the campus, to the benefit of staff and students.
Leadership development programme
Rossana Dowsett (Research and Enterprise Services) - a member of staff at the University for 20 years - talks about her experience on the 2013 leadership development programme.
Now in its fourth year, the leadership development programme is helping to support managers across the university to maximise their potential. To date, 60 participants have completed the programme.
Head of Research Development Rossana Dowsett, a participant in the 2013 programme, highlighted the benefits of staff development in professional services: 'Staff in professional services at Sussex bear great responsibility in supporting and implementing key strategic developments and policies. Investing in staff can help to ensure success. By developing people, you help to bring them with you on a journey, and they feel that their contribution is valuable.'
Rossana accepted her place in the 2013 leadership development programme following a nomination by her line manager, the Director of Research and Enterprise.
Describing her reasons for joining the programme, Rossana explained: 'As my team has grown, I've encountered more personnel management challenges and taken on more of an influencing role outside my team. I joined the leadership programme hoping to learn from others' experiences, as well as those of the programme leaders'.
The provider, Ashridge Consulting, offers specialist training delivered via a series of workshops. Rossana said of the programme leaders: 'They are aware that there are people at different levels of seniority in the group, coming from different parts of the University. They have skillfully created an environment where day-to-day barriers have fallen away – the group is able to interact openly and constructively on equal terms.
'We've also discovered that there are some common challenges that we are all facing, both in professional services and in the academic departments, which we didn't necessarily expect. It has also helped us to identify ways to adjust our approach to allow for our differences', she said.
Rossana explained her action plan after the programme: 'With the arrival of the new University strategy I plan to develop a sub-strategy specifically for my team, which will define our vision and aims. I hope this will also help us to communicate to other parts of the University about what we do and hope we can add value to the University's research ambitions.'
---
You might also be interested in: