Overview
At the founding of the University of Sussex, our first Vice-Chancellor, John Fulton, said that the proper role of our University was 'making the future'.
Creating a renewed vision for Sussex in 2009, we took that inspiring phrase – "Making the Future" - as the title of our 2009-2015 strategy, since it so clearly and simply captures the essence of Sussex.
We reaffirm this in setting out our new strategy for the next five years: Making the Future is our purpose.
Although that 2009 document charted a path to 2015 for Sussex, we are launching this new strategy in 2013 because plans should not stay unchanged in a fast-developing world and in a fiercely competitive higher-education environment. It is also a reflection of our success.
We have exceeded many of the targets that we set in 2009, especially in student recruitment and growth, which have been outstanding.
This means that we are now in a position to establish more challenging goals that reflect our current success and our ambitions for the future.
This new strategy represents the culmination of two years of discussion among our students, staff, and the wider University community, and thanks are due to all those who have helped in its development. This strategy should be as relevant and aspirational for our incoming undergraduates as it is to our established academic researchers and professional services teams.
Those discussions indicated widespread support within the University community for continued growth in our overall size. But, together, we were clear that this needed to be growth with a purpose.
We believe that reaching a significantly larger critical mass in our staff and student numbers allows for a much greater impact from our research, more people benefiting from a distinct Sussex experience and a more robust basis on which to develop our innovative activity.
Our founding over 50 years ago was equally ambitious, with rapid growth driving a new approach to higher education. The enduring values of Sussex are enhanced by this growth: innovative critical thinking, an interdisciplinary approach to research and learning, and an understanding that quality is at the heart of all we do.
Higher education is entering a new age of professionalism and competitiveness. I believe that this new strategy will allow us to take a lead in this environment, in terms of academic excellence, social impact and financial stability.
Professor Michael Farthing
Former Vice-Chancellor
Professor Adam Tickell joined the University as Vice-Chancellor on 1 September 2016.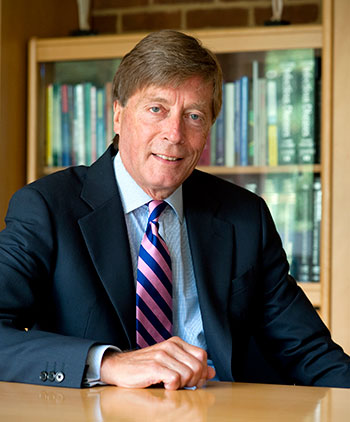 The enduring values of Sussex: innovative critical thinking, an interdisciplinary approach to research and learning, and an understanding that quality is at the heart of all we do.
Sussex claims a unique place among British universities. As the first of the new wave of UK universities in the second half of the 20th century, we were founded with a distinct idea of what it should be to be a new university. We continue to foster that founding spirit of intellectual, social and pedagogic adventure.
Sussex has already created a world-class centre of excellence for research and teaching, supporting Nobel Prize winners and future leaders of vital organisations and institutions, confident communicators, creative thinkers and internationalists, delivering positive change in the world.
While Sussex has a strong sense of itself as a campus rooted both in the outstanding natural beauty of the South Downs and the urban energy of Brighton, our outlook is global. Playing our role in global higher education, we are a progressive university delivering innovative thought and action, with a worldwide reputation for excellence in learning, research and discovery.
In pursuing our mission, we celebrate the values of:
Excellence, through a commitment to delivering the highest standards of research, scholarship, teaching and learning in order to provide a dynamic and stimulating environment for students and staff and to maximise their social and economic contribution to societies;
Interdisciplinarity, through tackling multidimensional problems, while maintaining a strong, broadly based set of disciplines across the arts and humanities, social sciences, sciences and medicine;
Engagement, by actively seeking an external and international approach to all our activities;
Challenge, in which all members of the Sussex community are prepared to explore creatively the status quo and alternatives, within the context of excellence and professionalism, and to seek to make positive change in society;
Partnership, by developing sustained relationships that bring together complementary skills and resources to create mutual benefit and to deliver impact that cannot be achieved by either partner alone;
Professionalism, by upholding freedom of academic enquiry, undertaking activities in a responsible manner using robust, transparent processes and maintaining professional standards in the conduct of all academic and support activities;
Equality and diversity, by making appointments and developing entry routes to the University based on educational merit, and valuing the strength derived from contributions to our mission by people from different backgrounds, traditions, cultures and perspectives;
Service, in which members of the Sussex community seek to use their skills and talents to contribute to local, national and international communities and organisations.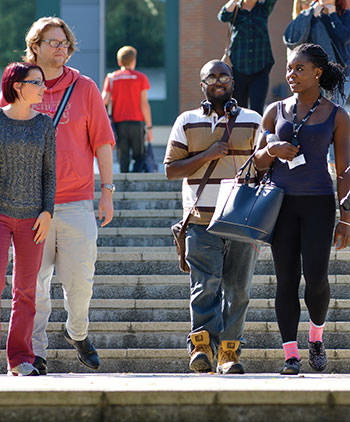 Rooted both in the outstanding natural beauty of the South Downs and the urban energy of Brighton, our outlook is global.
Our vision for 2018 is to be a university of high quality, recognised for our contribution to the global academy and human knowledge, with a size and scale to sustain our distinctive academic endeavour for the future.
Growth for impact
Sussex has been on a successful path of growth in both student and staff numbers since 2009 and we aim to continue to grow significantly over the course of this strategy. Achieving this growth is important because we:
Believe it is right to increase the transfer of our knowledge and research into local and global benefit;
Want more people to have the opportunity to benefit from the excellent teaching and learning we provide at Sussex;
Want to sustain and develop our research, ensuring we achieve the 'critical mass' of staff and students needed to be internationally competitive.
Want to develop new areas of research enquiry and teaching and to make Sussex both a competitor and an attractive partner for new research and academic initiatives;
Wish to ensure our financial sustainability, and increase our financial resilience and institutional autonomy.
As we grow, we remain committed to being a comprehensive university, undertaking research, teaching and learning across the arts and humanities, social sciences, sciences and medicine.
While significant growth can be accommodated at Falmer, we will also look at options to expand our activities beyond the campus – both in terms of a physical presence and in a major development of our online and distance-learning activities. We will also extend our reach through partnerships with organisations that share our values and can help to deliver our vision.
Quality
Maintaining and enhancing academic quality in research, teaching and learning is our overriding priority, and we will improve the performance of all our activities to support this vision. Academic quality involves the creation and sharing of original and significant knowledge, produced with rigour, integrity and creativity through research, teaching and learning. Nurturing quality in academic work is complex, and requires strategic investment in high-quality researchers and teachers, and in infrastructure and support services. Our plan seeks to deliver growth to support this investment.
Quality and impact in research
As a research-led university, the quality of our research underpins our entire academic endeavour. Our research quality will be recognised by strong performance in the Research Excellence Framework and similar future exercises. To secure and enhance this quality for the future, we require:
Critical mass in key research areas;
Research that has high impact identified through its use and public recognition;
An increase in our research income; and
An improvement in our facilities, structures and support.
A necessary part of securing critical mass in research will be a step-change in our research and doctoral income performance, making Sussex a university with the capacity and resourcing of research to match its high quality. This will help to generate a virtuous circle whereby higher research performance attracts higher-quality staff and more student applicants, which generates additional resources that can then be invested in staff, facilities and the research environment, which then lifts research performance further.
We will also develop mechanisms to increase the impact of our research on the economy, health, society, culture, technology and public discourse, and more fully communicate and celebrate our positive impact on these areas.
Read about our research goals and strategic ambitions through to 2018.
Quality and impact in teaching and learning
At Sussex, quality teaching occurs when led by researchers engaged in the discipline and in pedagogic practice. The Sussex curriculum will therefore continue to reflect the research interests of our academic staff and to be at the forefront of each discipline in terms of content and teaching methods.
We will continue to innovate in curriculum design to create a learning experience for our students that maximises their opportunity to deepen and broaden their knowledge and skills. We will continue to develop new course structures that facilitate breadth and depth of study, use technology to enrich the student experience, and ensure that our curriculum reflects our interdisciplinary traditions.
Readiness for employment is increasingly important for our students, and many want to help create a better world, as well as have a great career. We will provide greater personal support for our students to develop their skills, drawing on best practice internationally, as well as creating an even higher profile for Sussex among leading global employers.
'Read about our teaching and learning goals and strategic ambitions through to 2018.
Distinctiveness and autonomy
Sussex was founded as an explicitly interdisciplinary university. As we grow in the coming years, we will reassert our claim to be foremost among UK universities for interdisciplinary endeavour. Creating new interdisciplinary approaches through our research and increasing opportunities for students to combine subjects in their studies, we will significantly enhance the place of interdisciplinary scholarship at Sussex.
Internationalism is embedded in the intellectual and social life of Sussex, and we will strive to make Sussex ever more welcoming to international students and staff. With increasing numbers of alumni in many countries, we will continue to build Sussex's identity, positioning and role abroad, with major events overseas and the exploration of possible new locations where our research and teaching might develop.
On our Falmer campus, we will develop high-quality new buildings and spaces that complement and preserve the historically significant vision established by Sir Basil Spence. Surrounded on all sides by a National Park, with a rich coastal and rural landscape, we will establish new academic initiatives to take active advantage of this distinctive situation.
Close to London, with easy access to its vast cultural resources and cosmopolitan life, our University is also key to the fabric and intellectual capital of one of the UK's most enterprising cities, Brighton & Hove, where the University is already recognised as a major asset for economic growth. We will continue to enhance workforce skills and provide excellent support to business and technology innovation in the region.
Underpinning our success is a commitment to both academic and financial autonomy that ensures that we are in a robust position to determine our own direction as an institution in a rapidly changing environment.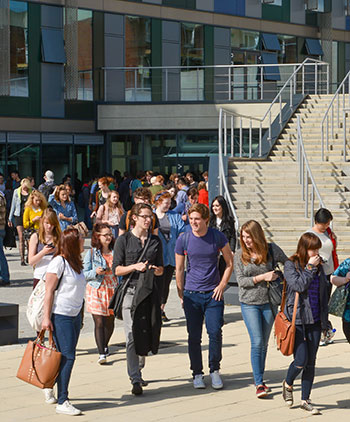 Our University is also key to the fabric and intellectual capital of one of the UK's most enterprising cities, Brighton & Hove, where the University is already recognised as a major asset for economic growth.
---
You might also be interested in: