Economic and social impact
Strengthening the economic and social impact of the University on the wider region. We will do this by:
Growing the regional economic impact of the University's activities by 50 per cent by 2018.
Achieving greater business engagement and incubation led by the Sussex Innovation Centre, including the establishment of two new innovation hubs in the region.
Increasing the translation of research outputs and academic expertise.
Increasing our influence on public policy and discourse.
Expanding our engagement with local employers – delivering high-quality, skilled and innovative graduates, boosting the productivity of the regional economy.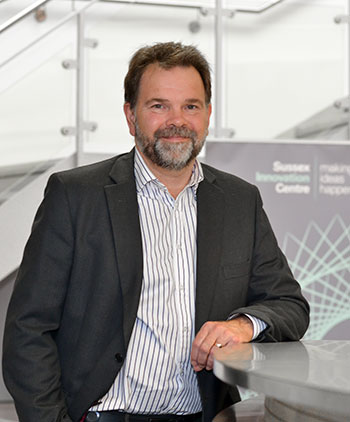 Mike Herd, Executive Director of the Sussex Innovation Centre, a business-incubation hub at Sussex. In April 2013 Mike received a Queens Award for Enterprise Promotion, which rewards significant contributions to encouraging entrepreneurship.
1.1
As an organisation with a turnover of £200 million and over 2,200 staff, and which brings in 5,500 new students to the region each year from dozens of different countries around the world, the University will champion its role working as a major partner with local agencies in relation to planning, transport, policing and provision of utilities.
1.2
The University is already recognised as a major asset for economic growth planning in the Brighton & Hove area. We will help to sustain the city in the national top five for workforce skills, and provide excellent support to business and technology innovation as we already do, for example, through our close links with the locally based global technology division of American Express.
1.3
An independent review for 2012-13 confirmed that the gross economic impact of the University was over £500 million, with a net value-added of £325 million and tax revenues generated of nearly £90 million. Our activity supports over 6,000 jobs and makes up over 2.5 per cent of the whole local economy. Our ambition is to increase this impact by 50 per cent through growth of the University and more effective external engagement.
1.4
We will enhance the provision of high-quality business incubation services, primarily via the campus-based Sussex Innovation Centre, enabling innovative new businesses to develop and establish themselves in a technology- and knowledge-rich environment.
1.5
We will increase the translation of research outputs and academic expertise for the commercial benefit of the University and to increase our contribution to particular sectors and to the local and national economy. Since our research is increasingly available in accessible formats, it will also contribute to wider regional and national innovation.
1.6
We will increase our influence on public policy and discourse locally, nationally and internationally, through our research, consultancy and production of strong graduates.
1.7
We will expand our engagement with hundreds of local employers – by providing access to students to undertake part-time jobs while studying, and also facilitating graduate employment. Economic benefit will also derive from the expansion of placement and internship opportunities with local businesses. Our careers service, working in conjunction with the Sussex Innovation Centre, will continue to improve its excellent range of services and its employer network support.
1.8
We will undertake further periodic surveys to identify the immediate economic benefit of the presence of the University, in terms of jobs and wages, and purchasing of goods and services, flowing into the local and regional economy, and how that benefit increases over the period of this strategy, in line with growth of turnover and jobs.
Andrew and Virginia Rudd Centre for Adoption Research and Practice
Subtle changes in society occasionally give rise to new areas of scientific study. A recent example of this is the changing nature of family. With the traditional nuclear family in decline, increasing numbers of children in the UK and Europe are brought up by parents who are genetically unrelated to them – they have either been adopted, experienced parental remarriage, or been born, for example, via assisted reproductive technologies.
This has redefined the nature of adoption, and with it, changed the face of adoption research. To answer needs for research, both to support intervention in social care, and to inform Government policy, a new Centre for Adoption Research and Practice has been created at Sussex, with help from a substantial donation by Andrew and Virginia Rudd.
A unique initiative in the UK, the Centre, which initiated activities in October 2013, aims to explore areas including how separation, maltreatment or pre- or post-natal trauma may affect child development and how new research insights from neuroscience and genetics can inform practice.
Professor Gordon Harold is the Centre's founding Director and has been appointed Andrew and Virginia Rudd Chair in Psychology. Professor Harold's background is in developmental psychopathology, behavioural genetics and family psychology. He explained the link between a child's upbringing and development: 'Evidence suggests that the experiences children have within families are a very significant factor in their development, bearing on their emotional development, behavioural development, and later academic development; understanding how to promote positive child development in the context of family life is a goal of significant social, clinical, policy and long-term economic interest'.
As well as affecting the lives of individuals, adoption and related family research also impacts at a wider social and economic level. Having a positive effect on the early development of individuals can, for example, reduce the chances of depression and other mental illnesses in later life. Professor Harold explained: 'By 2020, according to the WHO, depression will be the second leading cause of disability-adjusted life years – time lost to illness – internationally. So the origins of depression as an index of mental ill health is hugely important, with family life evidenced as a profound influence on long-term mental health development.'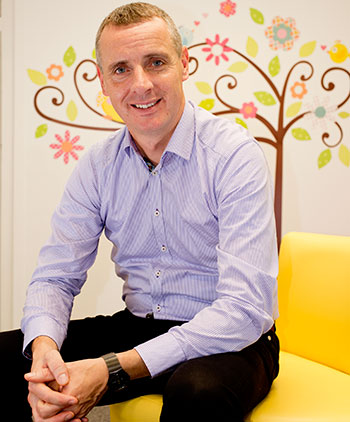 Professor Gordon Harold joined the University in October 2013 as its first Andrew and Virginia Rudd Chair in Psychology.
---
You might also be interested in: