External engagement
Building more and stronger partnerships with external organisations, institutions and individuals locally, nationally and internationally. This will include:
By 2018 Sussex will have around 10 strategic international partners.
Increased engagement with alumni to strengthen their relationship with Sussex and support our activities.
Strengthening engagement with the local community to demonstrate the value of the University.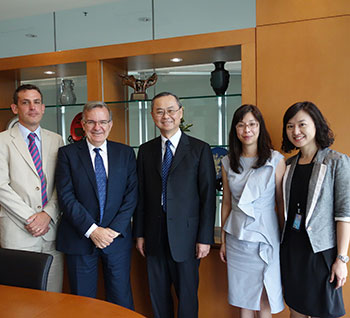 A delegation from the University of Sussex visited the Chinese University of Hong Kong (CUHK) in August 2013. CUHK is one of a number of universities in Asia with which Sussex has long-standing links and is exploring deeper collaboration in teaching and research. From left to right: Marcus Williams, Director of Student Recruitment and International Affairs at Sussex; Professor Chris Marlin, Pro-Vice-Chancellor (International) at Sussex; Professor Fok Tai-fai, Pro-Vice-Chancellor at CUHK; Shally Fan, CUHK Director of Academic Links; and Amy Chan Programme Manager, Office of Academic Links.
International partnerships
1.1
The University of Sussex has an impact on the international stage through our graduates across the world and through our academic partnerships with international institutions. We will maximise the benefits of our research and educational provision by significantly growing the number and strategic importance of our external partnerships.
1.2
We will significantly increase the number of international placements for our students, which will also have a tangible effect on our economic and social impact overseas.
1.3
We aim to introduce a University of Sussex Regional Centre for each major global region, leading recruitment, potential partnerships and academic activity.
Engaging our alumni
1.4
We will build on the success of our Making the Future campaign, which is fostering a burgeoning culture of philanthropic giving to the University, with threequarters of the £50-million target already secured. New scholarship programmes, academic chairs and research centres have been launched in recent years thanks to the generosity of alumni, friends, corporations, trusts and foundations.
1.5
We will also build on the successful 50th anniversary celebrations in 2011-12, develop new initiatives, events and volunteering opportunities that strengthen our links with alumni and friends, and foster their involvement and life-long commitment to Sussex as advocates and ambassadors for the University worldwide.
1.6
We will continue to engage our alumni community in order to support students through schemes that improve the student experience or employability skills, such as the Learning to Lead Programme and the Sussex Graduate Network of volunteers who offer careers advice.
1.7
We will showcase our leading UK and international alumni to prospective students and expand the range of alumni consuls we employ. We will develop a mentor scheme with our alumni to provide high-quality support for incoming students.
1.8
As we grow our international numbers further in larger nations such as China, we will hold overseas graduation ceremonies to ensure our students and families can enjoy and celebrate their success.
Community and civic engagement
1.9
We will continue our academic partnerships with local colleges and schools, including validated provision and relationships with Further Education colleges, and hosting staff development events for local teachers and lecturers.
1.10
We will enhance local and regional research-based connections in conjunction with local bodies such as Brighton Museums and Glyndebourne, or through contract research, for example with our local NHS Trust.
1.11
We will further develop our creative and intellectual engagement to promote public understanding of the ideas and research being developed at the University through a wide range of events on and off campus.
1.12
We will continue to run education programmes open to the public in selected academic areas, such as language studies.
1.13
Opportunities for community access to our academic and learning resources will be developed, for example with the new Keep facility housing our Special Collections and Mass Observation Archive and with the opening of the Attenborough Centre as our major research centre for the arts on campus.
Widening participation and volunteering
1.14
We will continue to work with local school and college students to promote widening participation in higher education.
1.15
We will continue to expand opportunities for Sussex students to undertake a wide range of volunteering engagements in the local community, including in collaboration with the Students' Union.
The Keep
Fiona Courage, Special Collections Manager, explains what The Keep means for Sussex.
The Keep – a new historical resource centre – is the result of a major partnership with East Sussex County Council and Brighton & Hove City Council. Due to open in November 2013, The Keep is providing new opportunities for public engagement.
The University has transferred its Special Collections to the new purpose-built repository, a short walk from campus. The collections include the Mass Observation Archive, containing a wealth of papers collected by the social research organisation in the 1930s and 40s, to which new material has been added, up to the present day. At The Keep, the collections will be maintained at an optimum temperature for their preservation and reduce the risk of fire and water damage.
The £19-million building project has produced a series of spaces that are bright, light, technology rich and conducive to enjoying the collections.
Fiona Courage, Special Collections Manager, explained: 'The move to The Keep has opened up opportunities to engage not only with local residents and schools but also visiting genealogists, historians, sociologists, and anthropologists from around the world.'
The public spaces of The Keep include reading rooms and several teaching, learning and events spaces. Fiona said: 'We have developed a huge activity programme aimed at young children right through to "third age" scholars. We have more space and better facilities to host them than we had at the Library. We now have a coach park outside the door, which makes all the difference to visiting groups.'
The Keep also brings experts in the library, archives and heritage sector together for the first time. 'Coming together has allowed us to pool our ideas, expertise and resources, and to put in more exciting project funding bids,' explained Fiona.
One such funding bid has already proved successful – in July 2013 The Keep received a £44,000 grant from the Heritage Lottery Fund. This has enabled staff to run workshops and create new resources for schools that are based on archive materials.
University Librarian, Kitty Inglis, said: 'The investment made by the University and its partners will have far-reaching benefits, ensuring the preservation and development of archives and special collections of local, regional, national and international significance and inspiring future generations of researchers'.
---
You might also be interested in: