Our Falmer campus
Creating a high-quality physical environment at Falmer to attract the best students and staff where they will be able to enjoy their study and work. Major projects include:
Delivering our vision through a new Campus Masterplan to increase capacity while continuing to enhance the environment in sympathy with the architectural heritage of the campus.
Improving our academic facilities including a major renewal of the science estate.
Increasing the residential accommodation to provide housing for 40 per cent of our students.
Continuing to invest in library, IT and other academic support facilities to ensure excellent infrastructure and facilities for our students and staff.
Developing our sport, leisure and social facilities for the campus community.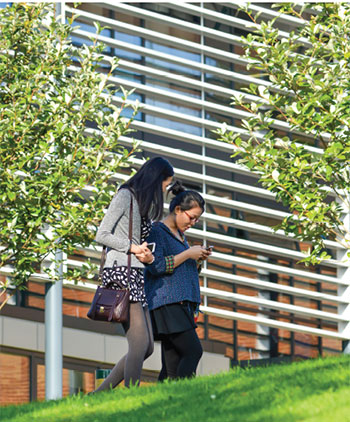 The Fulton building, named after the University's first Vice-Chancellor, Lord Fulton, was completed in 2010. The £10-million development provides 3,000 square metres of teaching space, including two 160-seat lecture theatres and 26 seminar rooms.
1.1
High-quality research, teaching and learning cannot take place without appropriate infrastructure. Provision of high-quality, fit-for-purpose connectivity and IT, research facilities, libraries, learning and social spaces, will be a top priority in new capital development projects.
1.2
We will create a new Campus Masterplan to provide the framework to support a student population of around 18,000, while preserving and enhancing our green spaces and outstanding architectural heritage.
1.3
We will upgrade the University's teaching and learning facilities to create an outstanding educational environment, including excellent facilities for technology-enhanced learning.
1.4
We will renew the science estate so that our high quality research and teaching, and growing ambitions in key academic areas in science, are sustained and supported.
1.5
We will continue to develop and improve the landscaping of our campus, ensuring that the physical estate and infrastructure are of high quality and that biodiversity is maintained.
1.6
We will significantly increase the capacity of our residential accommodation, offering more students the opportunity to live within our beautiful Falmer site, and increasing overall the accommodation available to provide housing for 40 per cent of our students.
1.7
A new visitor centre will act as a central information point and a 'front door' for prospective students, visiting alumni, and existing and potential partners so that they enjoy the best-possible welcome to our campus.
1.8
We will develop the physical infrastructure that supports the wider student and staff life on campus, including the creation of a new sports centre, and renewed café, retail and social spaces.
1.9
We will continue to invest in a wide range of other campus infrastructure improvements, including telephony, other utilities and compliance works, to meet the needs of our growing community.
---
You might also be interested in: