Our Falmer campus
Creating a high-quality physical environment at Falmer to attract the best students and staff where they will be able to enjoy their study and work. Major projects include:
Delivering our vision through a new Campus Masterplan to increase capacity while continuing to enhance the environment in sympathy with the architectural heritage of the campus.
Improving our academic facilities including a major renewal of the science estate.
Increasing the residential accommodation to provide housing for 40 per cent of our students.
Continuing to invest in library, IT and other academic support facilities to ensure excellent infrastructure and facilities for our students and staff.
Developing our sport, leisure and social facilities for the campus community.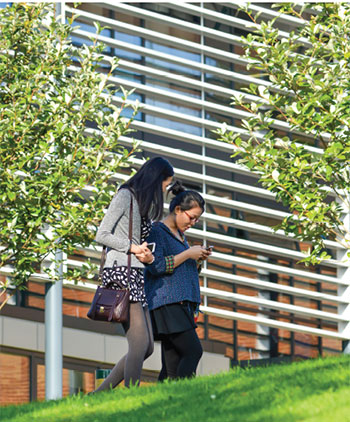 The Fulton building, named after the University's first Vice-Chancellor, Lord Fulton, was completed in 2010. The £10-million development provides 3,000 square metres of teaching space, including two 160-seat lecture theatres and 26 seminar rooms.
1.1
High-quality research, teaching and learning cannot take place without appropriate infrastructure. Provision of high-quality, fit-for-purpose connectivity and IT, research facilities, libraries, learning and social spaces, will be a top priority in new capital development projects.
1.2
We will create a new Campus Masterplan to provide the framework to support a student population of around 18,000, while preserving and enhancing our green spaces and outstanding architectural heritage.
1.3
We will upgrade the University's teaching and learning facilities to create an outstanding educational environment, including excellent facilities for technology-enhanced learning.
1.4
We will renew the science estate so that our high quality research and teaching, and growing ambitions in key academic areas in science, are sustained and supported.
1.5
We will continue to develop and improve the landscaping of our campus, ensuring that the physical estate and infrastructure are of high quality and that biodiversity is maintained.
1.6
We will significantly increase the capacity of our residential accommodation, offering more students the opportunity to live within our beautiful Falmer site, and increasing overall the accommodation available to provide housing for 40 per cent of our students.
1.7
A new visitor centre will act as a central information point and a 'front door' for prospective students, visiting alumni, and existing and potential partners so that they enjoy the best-possible welcome to our campus.
1.8
We will develop the physical infrastructure that supports the wider student and staff life on campus, including the creation of a new sports centre, and renewed café, retail and social spaces.
1.9
We will continue to invest in a wide range of other campus infrastructure improvements, including telephony, other utilities and compliance works, to meet the needs of our growing community.
The Keep, the new public archive a short walk from campus
Sussex green spaces
Northfield accommodation
Students revising outside the Library
The Jubilee lecture theatre exterior view
Inside Jubilee lecture theatre
Fulton building foyer
Aerial view showing the iconic Meeting House
A new centre for life sciences
A new laboratory building for life sciences will support the University's aims of delivering innovative, forward-looking research, tackling questions that require interdisciplinary thinking and novel approaches and educating the next generation of world-leading scientists.
Research and teaching in the School of Life Sciences, in collaboration with other schools at Sussex, ranges from biochemistry, molecular biology, pharmacology, chemistry, genome stability, and neuroscience to evolutionary and behavioural biology, and ecology. Sussex life sciences research has an illustrious history, with two Nobel Prizes for chemistry and major breakthroughs in understanding the causes of neurodegenerative diseases and cancers. The School now has around 75 research leaders and counts five Fellows of the Royal Society among its faculty.
The new building will accommodate a host of state-of-the-art facilities, and is being designed with flexibility and future-proofing in mind.
Head of Life Sciences, Professor Laurence Pearl, explained: 'Our vision is to develop an open and interactive research environment, with specialist research facilities, for example, mass spectrometry, large-scale cell culture and x-ray crystallography, available to all scientists. Our concept is that shared facilities will foster interdisciplinary collaborations and provide new opportunities for interacting with industry in designated "incubator labs".'
Sara Hinchliffe, Life Sciences School Manager, said: 'The new building will allow researchers to work side by side, encouraging interdisciplinary working. We really want to create an environment that will inspire researchers and prospective students to come and join us, so we'll be thinking carefully about the social spaces as well as the labs.'
Professor Pearl described the building's potential as a teaching space: 'We're designing the building with the future of learning as well as research in mind. Our aim is to provide tomorrow's students with the chance to develop practical scientific skills surrounded by scientists striving to answer big questions. It's going to place practical teaching at the heart of a vibrant research-intensive environment. This is what Sussex is all about.'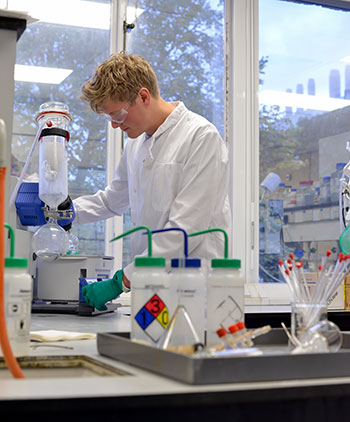 A life sciences researcher working in a chemistry lab in Chichester II.
---
You might also be interested in: