Exhibit at our Careers Fair
Meet potential future employees and raise awareness of your organisation at our Careers Fair.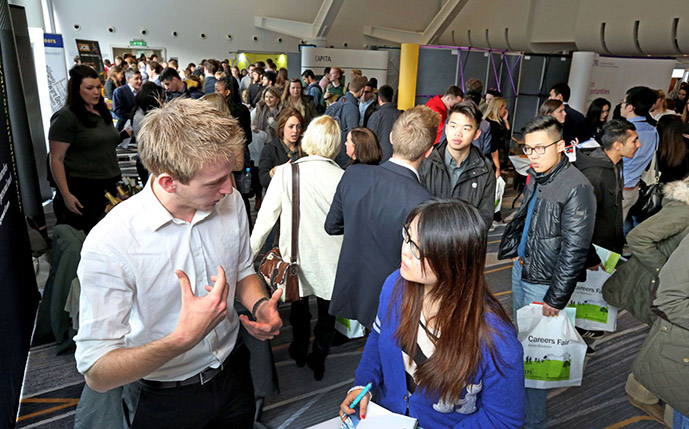 Why exhibit at our Careers Fair?
communicate with more than 3,000 potential candidates – students and graduates from the University of Sussex, the University of Brighton and other UK universities can attend
target students with the right skills through our sector-specific zones
benefit from nationwide and university publicity through our marketing channels
enhance your profile by becoming a Careers Fair sponsor or by advertising in the fair guide.
Costs
Careers Fair costs

| Exhibitor type | Price |
| --- | --- |
| Sussex-based small- and medium-sized enterprises, registered charities | £200+VAT |
| Other organisations | £350+VAT |
| Recruitment agencies | £500+VAT |
| Sponsors | Contact us for prices and information |
What's included?
an organisation profile on the Careers Fair website
your job opportunities included on our online jobs portal
a mention of your organisation in the Careers Fair student guide - issued to all attendees
catering

for two delegates per stand, including tea and coffee throughout the day, and lunch (additional delegates will be charged £15+VAT per person)

an exhibition area 3m (wide), 2.4m (high) and 2m (deep)
free parking
a team of helpers to assist you on the day, including cover for solo representatives.
The Careers Fair was extremely impressive. From the venue to the on-the-day support, all aspects of the event were well organised."

Jason Kan


CRCC Asia
How to promote your organisation
You can contact us to place one of the following types of adverts in our Careers Fair guide:
a full page, full colour advert (A5 portrait) is £100+VAT
a half page, full colour advert (A6 landscape) is £50+VAT.
Become a Careers Fair sponsor
If you choose to be a sponsor, your organisation will benefit from extra promotional opportunities, including:
your organisation name and logo on the front page of the fair guide, and on plasma screens in the main exhibition areas
a sponsor mention on our Careers Fair website
a full page, colour advert (A5 portrait) in the fair guide
extra tweets in the run up to, and during, the event
your promotional items (e.g. flyers, free goodies) to be included in the Careers Fair bag given to all attendees
your choice of stand location at the fair.
Sponsorship includes a free stand with lunch and refreshments for up to four delegates.
Careers fair 2017
More than 130 exhibitors attended in 2017, ranging from large employers such as Boots, BMW and PwC to small not-for-profit organisations such as Concordia and Chailey Heritage.
The event was sponsored by American Express, Lighthouse Systems, Southern Water and Tesla.
Contact us
Contact Jocelyn Owen, Events and Marketing Manager, on:
+44 (0)1273 678429